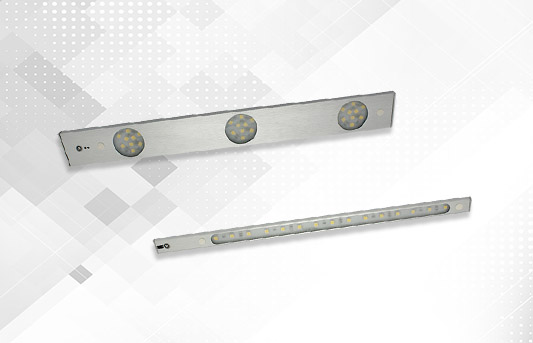 The furniture has its own style.
---
You could try our E-Business platform without registration where you have an access to the all products, their prices, stock availability, delivery time and technical information.
Description
The LED cabinet lightings bring a modern look to the decoration of the space.
We offer lighting fixtures for furniture that can be installed in several different ways. In-build cabinet lights which have a clear design and practically disappear into the wood. Surface-mounted which are are installed directly on furniture. Thanks to these lightings you can give a pleasant atmosphere in the room or highlight particular area or object. We offer also under-cabinet lights which are best suited for the kitchen for optimum lighting. Model CAB-19 has integrated door sensor, so the lamp will switch on when the door is open and switch off when the door is closed.
This type of lightings that we offer is designed only for dry indoor spaces. They are equipped with LED light source and are available in warm and neutral light 2700K and 4000K. They have a long life up to 30000 hours and even light with maximum luminous flux.
Browse all products of this category here: