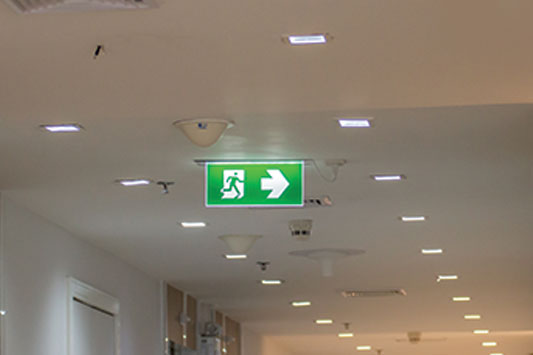 For safe evacuation from the buildings.
---
You could try our E-Business platform without registration where you have an access to the all products, their prices, stock availability, delivery time and technical information.
Description
The emergency lighting is intended for public or private buildings and indoor car park use. They clearly indicate directions towards emergency exits and are a great psychological way of preventing panic situations.
They come with an option with emergency power supplies in case of power failures. All of our emergency lighting is powered by a rechargeable battery, intended to provide full functionality even when the main power supply stops.
Browse all our LED Emergency lighting here:
The emergency lighting that we offer includes:
LED downlight with an emergency kit with a duration of illumination in emergency mode of 3 Hours;
LED lamp with an illumination duration in emergency mode 5h and various LED emergency signs;
They are with duration of illumination in emergency mode 3h. Full charging time up to 24 hours;
The luminaries of the category are from energy class A ++ to A.
Their biggest benefit is the high visibility, ease of installation and back-up energy which is quite responsive to power outages and provides full functionality when they are needed the most.
Why is emergency lighting so important
As you can see, we provide a wide range of lighting sources, some are more specific in use, while others are more universal in application. With this category, we provide more than just a piece of equipment, we provide safety, visibility in vital situations and that's why we strive to create trustworthy safety solutions for emergency situations.
Fire-department and health and safety requirement
It's highly unlikely for you to see a building anywhere in Europe, which lacks one of these signs or emergency exit notifications. This is because it's a mandatory requirement for a building to be operation, regardless of what sort of building it is – office, apartment or car park building.
This sort of identifying signal emergency lighting has become a stable in all construction and is a requirement for a building to be considered up to code. This is why we provide you with affordable, easy to maintain and use products which will help in you keeping with your local government laws.
Personnel safety
Personal and personnel safety are a great concern for a lot of building and business owners. In case of an emergency things may become chaotic, and one of the ways which may keep things in order, is by providing clearly visible markers for emergency exits and emergency lighting.
A good example is the XL88 ceiling mounted emergency lights and exit indicators which can be mounted on ceilings. It gives you the freedom and flexibility to choose exactly where to install them.
On the other hand the AL 3116 Plasterboard emergency signs can be integrated into ceilings and they come with a separate power supply which reduces the need for maintenance.
Low cost – high functionality
A great benefit of these sort of LED emergency light sources, is that they are pretty affordable but have a high functionality which cannot be allocated in other manners. The XL 101 is a wall mounted emergency sign which provides constant visibility even during fires and decreased environmental visibility.