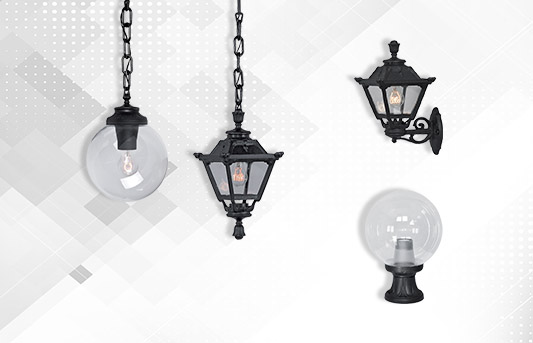 Light up the garden!
---
You could try our E-Business platform without registration where you have an access to the all products, their prices, stock availability, delivery time and technical information.
Description
The beautiful and well-kept garden is an accent for the home, especially at night, when it is lighted with excellent design solutions.
We offer a huge range of outdoor lighting to choose from. Whether you are looking for a garden lighting for your private property, a company building or a shop premises here you will find the right lighting.
The different series of garden lighting include elegant post lights in different heights, lanterns for wall mounting or hanging, path lights. The combination of the lighting fixtures will illuminate the outdoor space which will guarantee you safeness and an impressive lighting effect. You can create a romantic and antique atmosphere with garden lighting from the JOSH, MARK, ALEK, ERIC, NICK, GOLIA series. They are with long life, made of aluminium and resin which is UV resistant material. If you are looking for something compact you can count on the ANNA series which is our series with small size lanterns. Lantern body is made of resin with glass. Another classic series is here – GLOBE. It includes wall lamp, floor lamp and hanging lamp.
In our portfolio you will also find garden lighting with a modern and impressive design. An example of this are the luminaires from the GRF series, CARLO series, ESTER series.
The garden lighting we offer will fully meet your expectations for quality, efficiency and endurance.
Browse all our Garden lighting here: