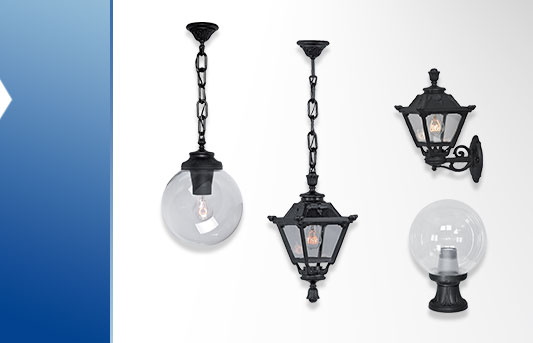 Light up the garden!
---
You could try our E-Business platform without registration where you have an access to the all products, their prices, stock availability, delivery time and technical information.
Description
The best garden lighting solutions
The beautiful and well-kept garden is an accent for the home, especially at night, when it is lighted with excellent design solutions.
We offer a huge range of outdoor lighting to choose from. Whether you are looking for a garden lighting for your private property, a company building or a shop premises you will find the right lighting solution.
Browse all our Garden lighting here:
The different series of garden lighting include elegant post lights in different heights, lanterns for wall mounting or hanging, path lights. The combination of the lighting fixtures will illuminate the outdoor space which will guarantee you safety and impressive lighting effects.
You can create a romantic and antique atmosphere with garden lighting from the JOSH, MARK, ALEK, ERIC, NICK, GOLIA series. They are with long life, made of aluminum and resin which is UV resistant material.
If you are looking for something compact you can count on the ANNA series which is our series with small size lanterns. Lantern body is made of resin with glass. Another classic series is here – GLOBE.
It includes wall lamp, floor lamp and hanging lamp. In our portfolio you will also find garden lighting with a modern and impressive design.
An example of this are the luminaries from the GRF series, CARLO series, ESTER series. The garden facade lighting we offer will fully meet your expectations for quality, efficiency and endurance.
Elmark – where you can find a combination of functionality and style
Improve the lighting of your garden using any of the many choices we have available here. You can find classically inspired light fixtures with clean, yet quite pristine edges shapes and geometry – combine this with a gazebo or forged garden furniture and you've just created the perfect environment.
Within your catalogue you will a variety of styles and sizes of lighting fixtures, suitable for walls, as chandeliers, for parties, lamp posts with varying degrees of illumination and quite a lot more. All choices are water and weather proof, providing you with a long lasting lighting solution for any outdoor environments.
All choices are easy to integrate and have a stable base, which is weather proof as well, regardless if you are a homeowner or a contractor, here you will find stylish and quite functional lighting choices.
You prefer softer lights with a varied level of refraction? Or you prefer to have higher lumen levels? Is it important for you to illuminate a large area with as fewer amount of lights as possible?
Here you can find exactly what you are looking for, with a high level of weather protection and snow exposure. It's also possible to integrate these lights with a solar panel to further increase the efficiency of your home.
What sort of lighting choices do I have
The lighting choicеs here are inbuilt LED light source, LED bulb or LED Vintage bulb enabled, allowing you to choose the softness of the light as well as the efficiency and energy consumption.
If you are more classically inclined and like the look of the old-timey gas lams, or have a favorite Edison Bulb that you'd like to finally use – then we suggest you take a look at our resin GLOBE 250 series, particularly the 96G250MF/BL and the 96G250P/BL which are perfect for an outside setting focused towards a more classical approach.
If you are, however, a fan of a more modern, clean, industrial look we've got you covered with the CARLO or ESTER model, or the lamp post model which has a narrower based and a higher field of illumination. Similar in design collection are the GRF206 LED series which have a very interesting and appealing design, with lighting fixtures suitable for pathway or wall mounting.
In case you need any help with picking out the right aesthetic choices, then don't hesitate to give us a call or contact us and we'd be more than happy to assist you.