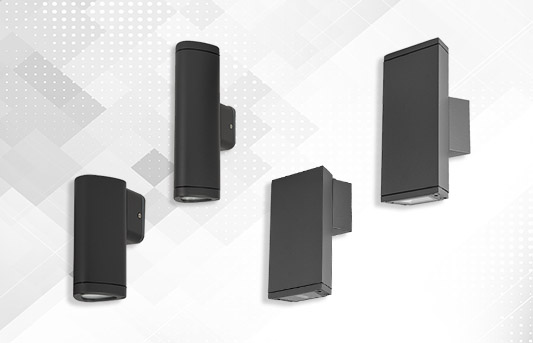 Focus on the details.
---
You could try our E-Business platform without registration where you have an access to the all products, their prices, stock availability, delivery time and technical information.
Description
Тhe Elmark`s facade lighting is manufactured in accordance with European standards for quality and control. They meet the latest trends, creating a modern line in facade lighting.
Outdoor lightings are used to accentuate a particular architectural detail and are also used as a guide for visitors, placed around columns at the entrance and exit.
The facade lighting we offer not only looks great but is also highly efficient, durable, weather-resistant, ingress protection certified for water and dirt resistance and has the possibility of an extended warranty.
Here you can find facade lighting of different shapes and sizes. We offer facade lighting with built-in LED light source. Such are the luminaires of the LIVIA, OL, GRF series. Or the ones with LED lamp, such as the wall lights from the MARTA and FRANKA series. They are made of high quality materials with UV resistance and are available in three colors – white, gray and black. There are available facade lighting with color temperature from 4000K to 6500K. There are wall lights with motion sensor available too. The ingress protection of facade lights varies from IP44 up to IP67.
Browse all our LED facade lighting here: