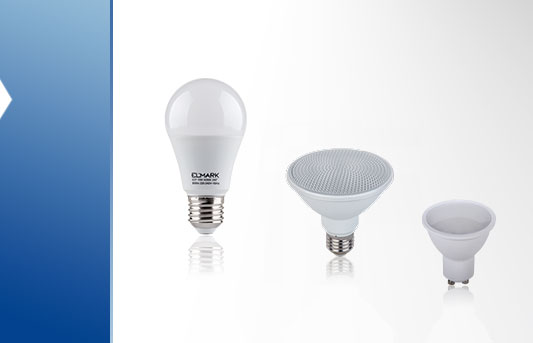 LED is the right decision for every project.
---
You could try our E-Business platform without registration where you have an access to the all products, their prices, stock availability, delivery time and technical information.
Description
The LED lamps are perfect addition to any property, if you are looking for an energy efficient eco-friendly product. In the past 10 years LED lamps became widely sought after for many households and business enterprises worldwide.
Browse all our LED lamps here:
What will you find here
Here you will find a rich selection of LED lamps. From the classic series PEAR 45 and PEAR 60 through candle-shaped lamps of CANDLE series to the HIGH POWER series lamps like the LED SMD E27, rated at 1350lm and 6400K.
You can be sure that here you will always find the right LED lamp according to the type of lighting fixture, the place and the purpose.
Choosing the right light for your project is important aim because every LED bulb has its color temperature – warm white, daily neutral and cold white. LED bulbs with the lowest color temperature are perfect for kitchens and living rooms.
These with 4000K neutral white color temperature are specially for bathrooms, garage and basement and the highest color temperature is used for active places, hospitals, commercial premises, warehouses and other industrial areas.
Due to the wide range of LED lamps in our product portfolio, you can find lamp with all types of bases:
Е27, Е14;
G4, G5, G9, G13;
G24d, G53, GU10;
2G11, GU5.3, R7s.
We offer also LED FILAMENT lamps and colored LED lamps in 5 different colors – Red/Yellow/Blue/Green/ White.
The power of the lamps we offer also has a wide range from 4W to 50W including our LED MOULD CELLING Lamps with range from 9W to 22W, from 900 to 2200 Lumen and with light color from 2200 to 4000K.
The LED MOULD variations are great for integration into ceilings, kitchens and display cases, they come with an adhesive which you can attach to a dust free surface. However, it's important to note that they are not rated for usage in wet areas.
Here you can find dimmable lamps available in different shapes, power and color temperature. Note that not all LED lamps are dimmable. For your convenience in our catalog we have marked all such LED lamps with a special label "Dimmable" – such as the LED Corn Bubble – 99LED977WW or the LEAD PEAR DIMMABLE (99LED425) and (99LED426) variations.
They should be installed with a dimmer which is connected to the relevant wiring – it allows for control, up to 3 different moods and a variation of intensities.
Specialized LED Bulbs
One of the more special variations of our LED bulbs, are the MOSQUITO LED PEAR with specialized functionality to repel (99LED8M rated at 780(lm)/3500K with a light angle at 180 degrees). Another good example is the mosquito killer 99LED6KM series rated at 400 lumens and 4000K color intensity rated at 200 degrees for the light angle.
They are perfect for a child's room since they can also act as a night light source, and double as mosquito killers and repellants. The installation of such units is quite simple as is not specialized at all, the only thing you need to do is to clean them from the mosquitoes that meet their end.
See here magnetic led lights.