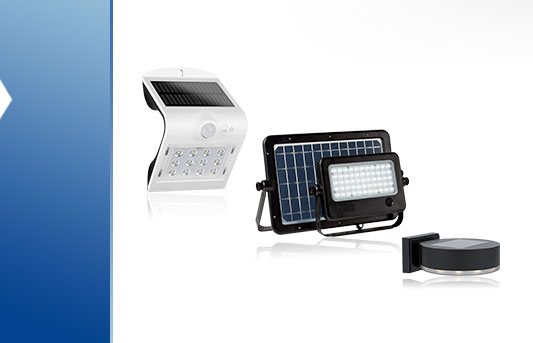 Environmentally friendly and high effective lighting.
---
You could try our E-Business platform without registration where you have an access to the all products, their prices, stock availability, delivery time and technical information.
Description
In recent years, solar lighting fixtures have become increasingly popular due to their eco-friendly technology, which transform the solar energy into electricity. The solar LED lights can fully replace other light sources such as candles, gas lights and even standard electric lighting.
Browse all our LED Solar Lighting here:
There is no need to lay cables in your garden and you don't need to spend time installing the lights.
Solar lights have a number of other advantages:
No electricity costs
LED lighting source which guarantee a long service life
The convenience of turning on automatically when it gets dark
Shine for up to eight hours when fully charged
You can move them around easily
The Solar lighting is a smart solution that can be used for a garden, yard, park and more. We offer various solar lighting fixtures such as lanterns, ground based LED fixtures, facade luminaries, floodlights and street lights.
Uses of Solar Lighting
As for outdoor use, solar luminaries have an ingress protection IP44, IP54, IP64, IP65. They are made of different materials – plastic, aluminum, metal and glass, ABS or polycarbonate.
They work in several modes which allow them to work economically for a longer time and to discharge their battery more slowly.
They are ideal for garages, gardens, pathways and lighting any other part of your property independently of power grid availability. This lowers installation costs and provides you placement availability anywhere with direct sunlight.
Due to this a lot of cities choose to forgot the old technologies and rather utilize solar power lights for street lighting, park lighting and any other outdoor related purposes. They also see a wide range of rural area use where bringing power to a property would cost a fortune.
A lot of our clients also use them for camping trips, lighting as disaster relief and many other outdoor related applications. If you feel the need for more clarity in your life and would love to explore more eco-friendly options, then our selection of solar lighting is the right one for you.
What sort of solar lights we provide
The solar lighting we provide are separated in two main categories – ground and wall mounted solar lights. The majority of our ground lights are meant for lawn and soft ground use – all, expect the driveway and wall mounted solar lights have a pointed, skewer-like end which securely fixates them into the ground.
For wall mounted solar lights, we have – small and compact wall lamps as well as big streetlights with sensors, with different modern casing styles – both made from light, UV resistant plastic.
The ground solar lights are ideal for garden or driveway lighting as they provide more than enough light, with both mono and poly solar panels and different diffusers. What sets some varieties from other is the battery, power and luminous flux, the height from their base, and the dispersal of light and light varieties.
Models like the Solar Torch Light (98SOL96) for example, have a more sophisticated and ornate finish, with provides a warm light and an even dispersal of light. It provides you with the necessary comfort and aesthetic sensation – it's a more classical, almost forged style design gives an entirely different sensation to your environment.
The driveway-specific solar power system light (98SOL41029) has a hard aluminum casing which secures the light and solar panel protecting them from the elements and accidental damage from tires. They are easy to mount and provide plenty of light, with a lower angle of dispersal as to not interfere with parking.
You can also choose different diffusers which change the angle of the light, creating a different feel, allowing you to curate and choose what sort of atmosphere you create.