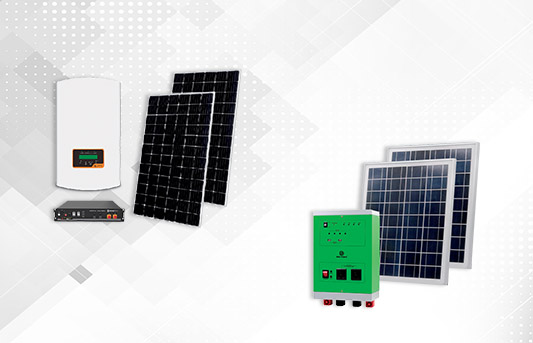 Renewable energy for your home or business.
---
You could try our E-Business platform without registration where you have an access to the all products, their prices, stock availability, delivery time and technical information.
Description
Solar power systems are one of the greatest inventions in our century. They convert the light from the sun into electricity, which can be used in aims of households or business enterprise.
Browse all products of this category and full technical information here:
This occurs when solar panels are installed to the most sunlight areas and they generated electricity direct. The place for installation can be on the rooftops or if it is not possible they can be mounted on the ground.
The solar systems include solar panels, inverters, wiring, solar inverters, circuit breakers, electricity meters.
On-grid and off-grid solar power systems
The On-grid solar power system is connected to your local utility GRID. The electricity produced by the system is routed to the grid from where it is used to run the various appliances.
This kind of solar power system has a number of benefits:
No electricity bills;
Easy maintenance;
No batteries;
Most cost-effective;
Most convenient to install.
Due to their convenience, solar energy systems for on-grid living are becoming more and more prevalent, with some countries even providing tax breaks for such installation. While it is still not implemented, there are countries, like the Scandinavian ones, where governments will actually pay for solar power to be returned back to the general power grid.
In these categories, we have a wide range of products, included in this category for Solar Power Systems are:
Solar power systems – sets;
Batteries for solar power systems;
Solar panels;
Inverters;
Mounting structures and elements.
The solar panel in our portfolio is monocrystalline solar panel with half-cells modules. That improves the module's performance and durability.
Half-cell modules have higher output ratings and are more reliable than traditional panels. The mounting structure is available for ground mounting and in other several variants according to the type of the roof – metal, bitumen or tile, flat or pitched.
For your convenience we offer solar power systems structure sets from 3.6 to 30kW which includes all needed basic elements.
Off-grid solar power systems
With this type of solar systems you are not connected to your grid's power system or utility company. This means that you are absolutely independent, however, there are a number of things which you need to acquire in order to make the system work.
These systems generally require batteries to collect the created and frequency inverted solar power. The Off-grid system is a fixed installation designed for domestic application.
You can find it in our catalogue as Solar Home Power system. It is powered by solar energy using solar cells that convert solar energy (sunlight) directly to electricity.
The Solar Home Power system is the perfect compact solution for an independent power supply in remote locations where electricity is unavailable, unreliable or expensive. Can be used in houses, huts and cottages, holiday areas, offices and etc.
With The Solar Home Power system can achieve energy independence – no accession contracts, monthly charges and the need to build an energy grid to your home. The Solar Home Power Systems are compact, portable and easily mountable. There are available 500W, 800W and 2000W sets.