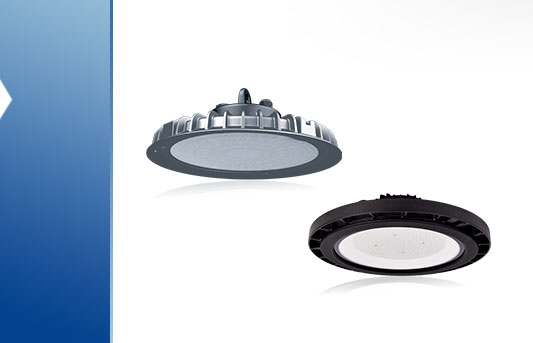 For a safe and perfectly illuminated outdoor work environment.
---
You could try our E-Business platform without registration where you have an access to the all products, their prices, stock availability, delivery time and technical information.
Description
The main application of LED High Bays is to illuminate large areas, because they are wide-angle lights, such as warehouses and product halls. They hang at a great height and
spread enough light in the area. With their LED technology, they are energy efficient and increase working efficiency.
Browse all products of this category here:
The LED High Bay Lighting is available in round shape in various designs and power between 100W and 250W. They come in two main colors – black and grey.
They are made of aluminum and are equipped with high quality light LED source and LED driver which will guarantee high quality lighting for long time up to 30000h.
Resistant to ambient temperature: -25 ° C ÷ + 55 ° C and with ingress protection IP65 you can install them in open and exposed to various weather conditions areas.
What sort of industrial lighting should you go for
Whenever setting up any medium to large scale production houses, like cattle or industrial production locations, one of the main concerns are security and visibility. This is why we provide a good selection of wide angle, high productivity, high efficiency industrial lights.
Bellow you can see a breakdown of the different varieties and what uses they may serve you, including some numbers that you might find useful.
What is the most important trait in industrial lighting? It's the light intensity and coverage of a single unit, in this regard, the most luminous single unit is the VIENA SMD 250W 31,200 Lumen 400mm diameter variety. It has an energy efficiency rating of A++.
The DUBLIN SMD STELLAR models also come in quite a variety of sizes and intensities, with varieties from 100W to 200W and 10,000 to 20,000 Lumens – the largest one has a diameter of 360mm.
The FIESTA SMD STELLAR is also a good choice for small to medium scale industrial use. It has a good diameter to wattage ratio, rating on average at 150 to 200W and diameters of 320 to 380mm – providing more than enough light with a single unit.
As we mentioned already, the VIENA SMD is the most powerful and enlightening units we provide, but this series also has smaller varieties which can be used even for household uses. The 100w 13,000 Lumen, 290mm diameter unit is the smallest one, covering less than half the capacity of the entire series. There are also:
VIENA SMD 150W – 19,500Lm – 350mm diameter;
VIENA SMD 200W – 26,000Lm – 400mm diameter;
VIENA SMD 250W – 31,200Lm – 400mm diameter.
The VECA SMD has the widest diameter selection of industrial lights, with the largest one being a whole 500mm, spreading light the furthest, with the shallowest light angle. The light intensity of this model comes at 25,000 Lumens, at the expense of 250W.
The rest allow farmers and industrial warehouses to choose from a variety of other industrial LED lighting, from 400,382,460 and 500mm diameter varieties. The lumen spectrums range from 12,000 to 25,000 Lumens and a consumption of 120 to 250 Watts.
All models are easy to mount and can even be used outdoors and have a great A++ energy rating, making them a great substitute for lesser industrial light fixtures.