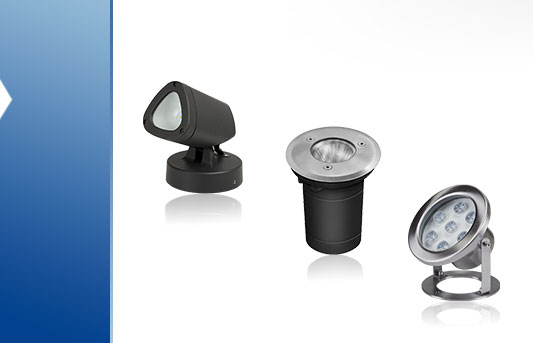 Subtle presence with great light effect.
---
You could try our E-Business platform without registration where you have an access to the all products, their prices, stock availability, delivery time and technical information.
Description
The ground recessed lighting fixtures can be fitted in a wide range of surfaces. They are preferred for lighting and decorating courtyards, terraces, designer statues, large outdoor areas where customers want to focus the attention.
All ground recessed fixtures that we offer are of high quality and resistance to atmospheric influences. They have a high ingress protection and are water resistible.
Also available special pool luminaires underwater downlights with IP68.
Browse all our Ground recessed fixtures here:
Recessed floor lights come in round, rectangular and square shapes. They are available with larger or smaller diameters, as squares or as rectangles. Main colors are gray-silver to black or gold.
The material from which they are made: aluminum, stainless steel, brass, PVC, resin, glass.
Their power is from 1.2W and reaches to 40W for our large recessed downlights. Get to know our series REY, GRF, CECI, ALDO and of course UNDERWATER.
What are the best uses for ground recessed lighting fixtures
Ground lights have the important task of illuminating exactly what is in front of us, and also to provide an ambiance and a feeling which cannot be achieved by other sources. The type of lighting and angle of lighting which outdoor ground lights create is a feeling of light coming from inside of the ground, rather than a beam shone onto the ground.
Great examples of a fantastic choice which can be found in any styles of houses are the ALDO and CECI recessed floor lighting which is meant to be used on driveways, but can also be successfully implemented on patios and pathways as well as around pools. These areas of a property are one of the most important as they are often wet and have the potential of trip hazards – so using a light which is not in the way is the key.
The CECI and ALDO product lines can safely be driver over since they have a robust, protective shell made from composite materials which provides a IP65 protection. These models are great for a more diverse display of warmth since the warmth of the light colors can be set from 2700K to 6500K.
The RAY series are also great because they have a wide range of sizes and are with aluminium body and diffuser of tempered glass with aluminium ring. Their power range from  13 watts to 40 watts and respectively 100lm and 3600lm with both exuding 5500K colour temperature. However, if you are looking for underwater lighting for your pool or bond, the UNDERWATER series of these LED lights are the choice for you – they come in 12V AC and 24V AC models, and of course the RGB model for colorful mood.
If you want something more mobile, we suggest you take a look at the Mini Tommy ELSP or the MiNi Tommy EL which can be mounted in different ways. THE ELSP variant is mounted with a  spike in the ground, while the EL variant can be surface mounted on a walls  – they have a swivel joint which allows the user to adjust the angle of the light to where it suits their needs the most.