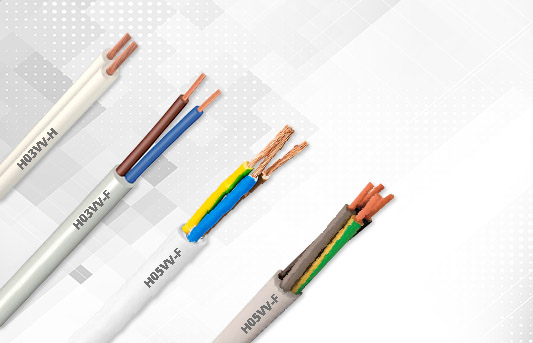 Widely used.
---
You could try our E-Business platform without registration where you have an access to the all products, their prices, stock availability, delivery time and technical information.
Description
PVC are low voltage cables used commonly in households, house wiring and internal wiring, wiring in factories, power supply for offices and others. Its main pluses are: tough, resistant to abrasion, it has strength and low weight as well.
PVC cables in our portfolio are H03VH-H, H03VV-F and H05VV-F.
H03VH-H is flat conductor with flexible Cu-wires and PVC-insulation. Number of cores 2 and sections 0.5 mm² and 1.5 mm².
Browse all products of this category and full technical information here:
H03VV-F is conductor with parallel or stranded in a bundle insulated cores, designed for connection of electrical appliances to the electrical grid, for connection of mobile users, devices and appliances. Number of cores 2 or 3 and sections: 0.5 mm² and 0.75 mm².
H05VV-F is another conductor in our portfolio. It is with flexible Cu-wires and PVC insulation and sheath, designed for connection of electrical appliances to the electric grid, for connection of mobile users, devices and appliances. Number of cores 2 – 5 and sections: 0.75 mm² to 4 mm².
What are the Advantages of PVC Insulated Cables
PVC insulated cables are one of the, if not THE most common cable types in households all around the EU. These types of cables provide heat and mechanical damage protection and are meant for use with AC power, however, they can also transfer DC electricity quite successfully as well.
We have three different standards of PVC insulated cables, which come in different ranges of cores, wire integrations and colour coding for ease of use. The general consensus on PVC cables is that they do provide quite a lot of utility around a property and can successfully even supply power to lighting fixtures in an outside of a property.
In fact, their use is so wide-spread, that it's rare to not see such types of cables, especially considering that they do provide a -30 to +50 degrees Centigrade protection to the wiring inside. In terms of cores, there are 2 main types of cables – single core – such as the H03VV-F; H03VVH2-F and the H05VV-F product lines as well as double core cables like the H03VV-H series which is made of single strand cores and only comes at sizes from 2×0.5mm all the way to 2×1.5mm cables.
Which Applications are Best Suited for PVC Cables
The most common and widely accepted application of these cables is for the supply of power to regular consumers. Those could range to anything from kitchen appliances such as mixers, toasters and even heaters, to other such appliances like TV's, air conditioning units and so much more.
If you are going to be installing an appliance or want to extend the cable of one, the we do suggest you use the H03VV-F series, especially the 3×0.5mm products as they do provide a grounding wire for additional appliance and user security.
The H05VV-F series is also a great choice, however, it should be noted that it has a wider range of wire types as it provides you the choice of 2; 3; 4 or 5 strand wires. The most applicable for appliance cable extension applications are the 3x1mm cables as they do maintain that grounding wire for additional protection.