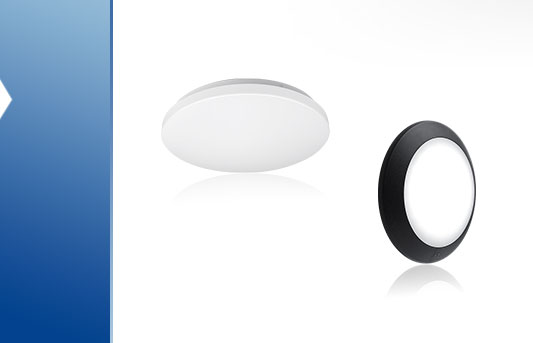 Practical, functional and designed according to the latest fashion trends.
---
You could try our E-Business platform without registration where you have an access to the all products, their prices, stock availability, delivery time and technical information.
Description
To achieve the best lighting for your home, you might find these lighting fixtures useful. There are sensor varieties which automatically detect your presence, which ensures that there is always light when you turn the corner.
Browse the full variety of all waterproof wall and ceiling lighting our catalog here:
And for a beautifully illuminated house you can count on the variety of water-resistant bathroom lights that we offer like the:
Bathroom wall lights – Marta 90-1, Marta 90-2 as well as the Franca 90, Franca 90-1 and Franca 90-2;
For bathroom ceiling lights we have the: LIVIA, BRICE and the specialized LED BULKHEAD LAMP with black and white panels.
These LED bathroom lights are rated for indoor and outdoor use, but most often are applied in bathrooms and wet areas like laundry rooms and even professional kitchens. Regardless if you are looking for ambient lighting or overhead bathroom lighting, you can find a wide variety of choices which we've made to fit any particular tastes.
In addition, they are designed to be equally beautiful when installed on both surface and recessed. They have universal use and can be installed in your bathroom or hallway, even along the stairs. This will make your home not only beautifully illuminated but also safer for everyone.
We also offer a variety of lighting options for exterior use or as bathroom wall lights, and we are certain. We recommend that you take a closer look at:
TERESA;
TERESA2L;
GRF9616LED;
GARDEN WALL LAMP E27;
LED WALL LIGHT ROUND IP54;
LED WALL LIGHT SQUARE IP54;
LED WALL LIGHT ROUNDED IP65.
They provide you with a pleasant choice of light direction, intensity and even dimmer controls which can be bought separately. The TERESA choices are ideal for patio lighting which provides enough light for an ambient feel of awareness, but not too much to ruin the mystique and wonder of a pleasant outdoor evening.
What sets our bathroom light fixtures apart from the rest
They are available in different shapes and lighting effects. Body color of the fixtures could be black, grey or white. They are made of different materials, such as aluminum, resin, polycarbonate which provides them with a resistance to water and the elements – our products are also very highly graded against wind and even hale damage.
Our selection of bathroom light fixtures
We offer luminaries with built-in light source with a long life of 30,000h and available with color temperatures of up to 4000K-4300K. Those which come without a built-in light source, allow you to choose exactly what type of light intensity you prefer, this way you can customize the sensation you get when you enter a room or a space.
All products come with a warranty and tempered glass which protects the light source from water and insect intrusion. If you decide to use an indoor fixture for outside use, we recommend that you use silicone on the corded part, as to fully seal the product from insects and other debris from entering.