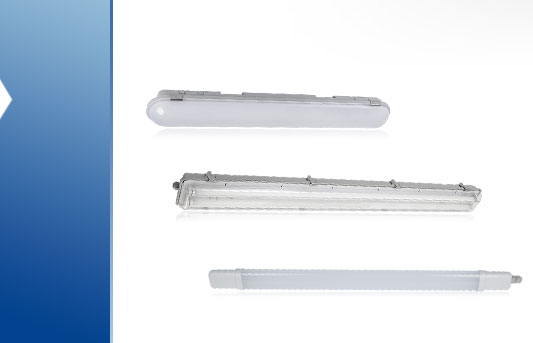 Industrial lighting solutions.
---
You could try our E-Business platform without registration where you have an access to the all products, their prices, stock availability, delivery time and technical information.
Description
Waterproof LED lighting fixtures that are suitable for halls, industrial areas, warehouses. They are also excellent solutions for lighting damp rooms.
These are the fixtures from WADE and BELLA series. There are models with an in-build light source and others with included LED tubes (single or double).
Browse all our LED Waterproof fixtures here:
They provide instant light with maximum luminous flux, have long exploitation life of up to 30000h, and repeated switch-on/off does not affect the lifespan of the luminaire.
A very important advantage of these typeя of luminaires is the economy and low energy consumption. Their power varies depending on the customer's needs and preferences – 10W to 55W.
We offer them in neutral (4000K-4300K) color temperature or cold white (6200K-6500K) color temperature. All lighting fixtures from this category have high ingress protection against dust and moisture IP65.
They are available with the option of surface mounting on the ceiling or hanging mounting through our special wire kit.
If you are looking for stable and even light distribution for your industrial premises these LED lighting fixtures are the right choice.
What are the applications waterproof lighting fixtures have
Waterproof light fixtures are always a good way of lighting a room or a space that has a volatile humidity level. This is because these fixates are fully encapsulated and do not interact with their surrounding area, making them ideal for basements, hallways, outside areas, and other locations which might require a bit more short circuit security and protection.
Due to the full IP65 ingress protection, these lighting fixtures are a must-have in any sort of home or industrial area where moisture is likely to occur. Industrial laundry rooms, kitchens, freezers, and other locations are also a quite good place to use these types of specialized lighting fixtures.
The two main types of families we have are the BELLA and WADE series, both of which have different sizes, intensities, and mounting options for the lighting fixtures which are within this particular series.
The first choice for many is the WADE series since it has variants from 18W to 43W with light intensities corresponding to their power rating. The 18W fixture produces 1600 lumens whereas the 43wat fixture produces 4300 lumens.
The BELLA STELLAR SMD2835 has variants ranging from 18W to 54W which are one of our most powerful and far-reaching products meant for IP65 ingress protection. The 18W variant produces 1620 lumens and shines with a neutral white light at 4000K and the 54W variant shines with 4860 lumens and a cold, white light at 6500K.
We also can offer you one of our products, the BELLA with LED Tubes T8 ELMARK which comes with several options which are spread into several classes. The 1x10W variants produce light at 800 lumens and have two options of color temperature 4000K and 6500K, whereas the more powerful double 2x24W variant gives out 3840 lumens and a light color of 4000K (neutral white) and cold white (6500K)..
If you are having a hard time choosing the best waterproof lighting fixtures, we suggest you contact us so we can point you in the right direction. The ElmarkHolding.eu team is more than happy to assist you in any way possible.