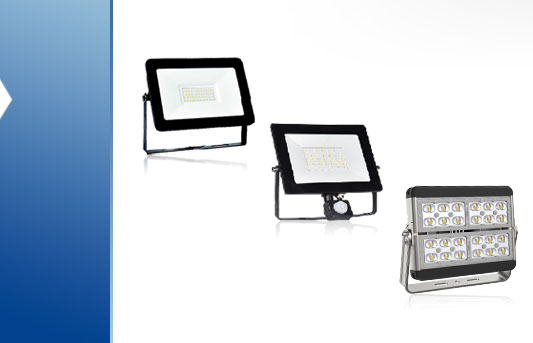 LED effect for every use.
---
You could try our E-Business platform without registration where you have an access to the all products, their prices, stock availability, delivery time and technical information.
Description
LED floodlights are the most commonly used luminaries for outdoor lighting. They are perfect for industrial lighting because they provide the necessary light for an optimal and safe working environment. LED floodlights are also used for garden lighting, as a type of decorative lighting, or for security reasons.
Browse all our LED floodlights here:
What sort of LED Flood Lights do we provide
As we do provide a general selection of LED flood lights and outdoor garden lighting, we've created a breakdown based on their different uses, such as:
Household flood lights for walls, gardens and patios;
Industrial – Stadium lights;
Jobsite- portable and rechargeable floor flood lights;
Household flood lights
For outdoor household use, we advise you to look at the GERMANA black and white varieties, as well as the GERMANA-G adjustable, the HELIOS SMD and HELIOS SMD with an adjustable stand.
A different, more slim version of the LED panel flood lights for household and garden uses, are the VEGA SLIM (black and white body) and the VEGA SLIM with a movement sensor for driveways and patios. The light intensity of this variety provides enough reach to illuminate an entire area, but if you are looking for something a bit more powerful, we recommend the stadium lights flood lights.
Stadium Flood Lights
These are the highest intensity and reach lights which come in several varieties in the PHOENIX series, which covers a very wide range of illumination. They are made out of individual panels with diodes, and you can pick and choose exactly the type that would suit your needs.
Jobsite, portable floodlights
Regardless if you use them for a personal project in the garage, nighttime yard work or for work, with our portable floodlights, you get the appropriate amount of light exactly when and where you need it. For a more convenient and portable floodlight, we recommend you take a look at the Rechargeable WORK LAMP with a standalone, foldable version, which hangs freely on rafters and can fit in tight spaces.
If you need a bit more light, for a prolonged period of time, you can also take a look at the LED WORK FLOORLIGHTS which come in a portable, standalone version with a 220v charge. They take direct AC electricity and can be used with generators.
The lighting fixtures in this category are widely used and around pools, creating a lighting effect.
LED floodlights can have a built-in motion sensor to detect movement and illuminate when needed. It doesn't matter if no-one is at home in the evening to turn the garden light on.
And you don't need to worry about turning the light off again when the sun rises.
All floodlights that we offer have high level of ingress protection IP65-IP67 which guarantees their perfect operation outdoors even in rain.
We can offer you compact floodlights with a power of 10W suitable for your house yard or country cottages (look at Vega and Helios series), as well as large floodlights designed for industrial usage with a power of 200 and more watts (look at Vega, Lyra and Sirius series).
We also have a proposal for the perfect lighting of stadiums, parks, sports fields, large squares. These are the floodlights from the Phoenix series which have a power of 240 to 960 watts and are equipped with a high quality light source of Philips.
In addition to a pleasant evening outdoors, we also offer our portable floodlights that will provide you with the necessary amount of light where and when you need it. They will also guarantee you perfect lighting and the ability to direct the light in your working place.