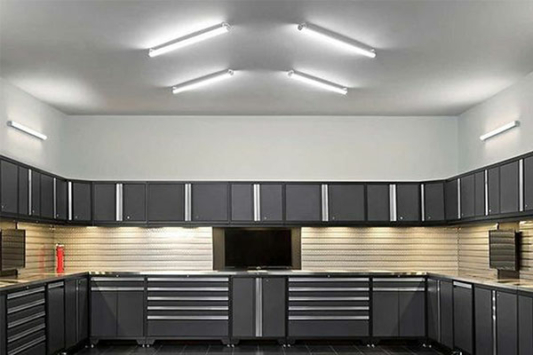 The perfect lighting solution for your commercial hall, show-room or office area.
---
You could try our E-Business platform without registration where you have an access to the all products, their prices, stock availability, delivery time and technical information.
Description
Lighting fixtures with LED tubes and LED strips are perfect for an office, showroom and or store. They completely replace old conventional fluorescent luminaries and have two main advantage – high efficiency and low energy consumption.
Due to this they have a long life and provide high quality, evenly displaced luminous flux. Their efficiency is not hindered by their repeated switch-on/off like it does other, lesser and older lights and bulbs.
Browse all our Lighting fixtures with LED tubes and LED strips here:
The way you go about illuminating the space you have, depends on the height and size of the room itself. You can choose a neutral light with a color temperature of 4000K or a cold light of 6400K. Cooler lights fit better with larger rooms, while warmer lights fit better in small rooms, grocery stores and office spaces.
Depending on the number and the power of the LED tubes you use you can achieve different levels of illumination. The luminaries we offer have a high ratio of luminous flux to energy consumption, which makes them economical to use.
We offer different sizes of lighting fixtures with LED tubes and LED strips, which allows them to be placed in both large and smaller rooms. Such are the models Lena, Viki, Pola, Prismatic. These luminaries with high protection against dust and moisture (IP65) are suitable for damp and open areas such as warehouses and halls. These are the lighting fixtures from the Bella series. They are available with option for surface or recessed installation.
They are fully equipped and easy to install and even some variations come with an additional emergency lights kit, like the LENA-V BM and OM variations. They come with a battery which will be providing full illumination even when the main electrical grid is off – the battery charge will last for 60 to 180 minutes.
The color temperature of the light source differs from 4000K to 6400K. The light intensity depends on the power draw of the LED tubes which are installed. The LENA and VIKI series come with variants for two 9 watt tubes as well as two 18 watt draw tubes.
What are the advantages of a LED light fixture
The main advantage is that they are far more efficient, last longer and make less noise than the old luminescent lights. This means less need for maintenance and less need for finding replacement parts.
While the old bulbs drew quite a lot of power, because it was required to light the luminous gasses, the LED fixture does not require so much electrical power and it will draw only 1/14 of what was required before.
Another big advantage of light fixtures like the POLA, for example, is that they have a reflective, white body, which not only provides an interesting aesthetic. The reflective body of the fixture provides additional illumination to the space, increasing the efficiency of light transference from the LED tube to the environment.
If you are looking for a low cost, efficient solution for your lighting needs, we recommend the Prismatic edition which comes luminous flux 3400lm variant and a 1700lm variant. It produces a neutral, pleasant 4000K light and covers a large area, as the consumption of each LED tube is only 10w.