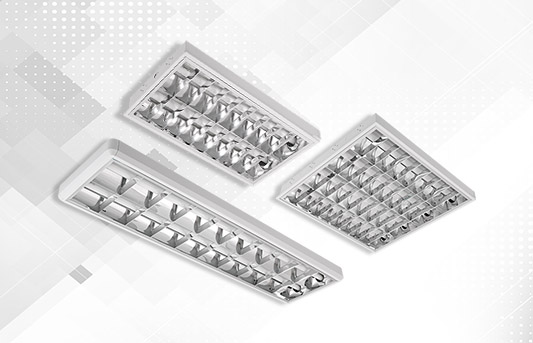 The perfect lighting solution for your commercial hall, show-room or office area.
---
You could try our E-Business platform without registration where you have an access to the all products, their prices, stock availability, delivery time and technical information.
Description
For your office, showroom and shop we offer lighting fixtures with LED tubes and LED strips. They completely replace old conventional fluorescent luminaires and have one main advantage – high efficiency and low energy consumption. They have a long life and provide high quality and even luminous flux. Repeated switch-on/off does not affect the lifespan of the luminaire.
Depending on the premises you want to illuminate, you can choose a neutral light with a color temperature of 4000K or a cold light of 6400K. Along with this you can achieve different levels of illumination depending on the number and the power of used LED tubes. The luminaries we offer have a high ratio of luminous flux to energy consumption, which makes them economical to use.
We offer different sizes of lighting fixtures with LED tubes and LED strips, which allows them to be placed in both large and smaller rooms. Such are the models Lena, Viki, Pola, Prismatic. The luminaires with high protection against dust and moisture (IP65) are suitable for damp and open areas such as warehouses and halls. These are the lighting fixtures from the Bella series. They are available with option for surface or recessed mounting. They are fully equipped and easy to install.
Browse all our Lighting fixtures with LED tubes and LED strips here: