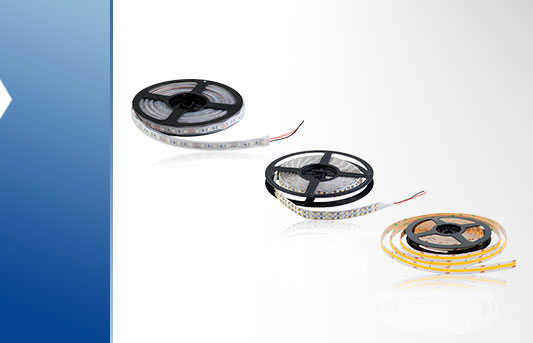 For the different and creative lighting project.
---
You could try our E-Business platform without registration where you have an access to the all products, their prices, stock availability, delivery time and technical information.
Description
The LED strip has a flexible surface on which many LEDs are mounted. LED strips are so multifunctional that can be used anywhere in the house and garden. LED strips are used for various types of decorations – for stairs, furniture, paintings, for lighting windows, on terraces railings and even in your car.
Browse all our LED Strips and components for them here:
The installation of this type of lighting is extremely easy and no professional skills are required, as the surface of the tape has a pad with glue. This lighting solution is also eco-friendly and is much more economical than other traditional solutions on the market.
The colors of the LED strip are different, to achieve the desired effect in the room. They are available with neutral, cold or warm colour temperature and multicolour functions (RGB LED strips). Some models can be controlled by a remote control other can be integrated into your smart home lighting system and controlled using an app.
The LED strips are good not only for indoor usage, but also look great outside so here you will find LED strips with IP20 (for your indoor projects) and with IP65/IP67 (for outside and in damp premises).
We offer LED strip on rolls of 5 meters with different LEDs on meter.
There are available LED strips with 60pcs/m, 75pcs/m, 120pcs/m. You can also choose between LED strips with 2x60pcs/m and 2x120pcs/m. To complete your lighting project with LED strips you will need some accessories.
To achieve a beautiful appearance when installing the LED strip and even light distribution, we offer different types of aluminum profiles with diffusers and accessories to them (clips, fixing brackets, caps). There are available various voltage drivers, power supplies and controllers.
What sort of accessories do we offer
Along with the best LED strip lights, we also offer the corresponding accessories which would make the maintenance, installation and security of your new purchase, a lot easier. We provide mounting brackets and profiles which are specifically designed for mounting on drywall – these are the DP series which come in different variations.
We provide you with the freedom to express and create the most amazing light displays and shows including suspension wire for the profiles for drywall and a flexible aluminum profile. All of these products can be purchased separately, in bulk or with a particular product in mind – we provide the quality and quantity, you provide the creativity.
One of our best selling products is the RGB led strip which comes in several different colours, including warm and cold white, pink, violet, green, blue red, yellow and RGB. With an RGB strip, you can create more than 3 million different colors – the lighting strips are operated with a remote control which is included in the packaging.
The IP65 ingress protection will provide absolutely safety from moisture, meaning that these LED strips are ideal for bathrooms, kitchens, gardens, pools and garages – their dimensions are 10m in length – 10mm in width and 19.5 in height.
If you have any questions regarding the specifics or availability of these cheap LED strip lights, then feel free to contact us at any point – we'd be more than happy to assist.