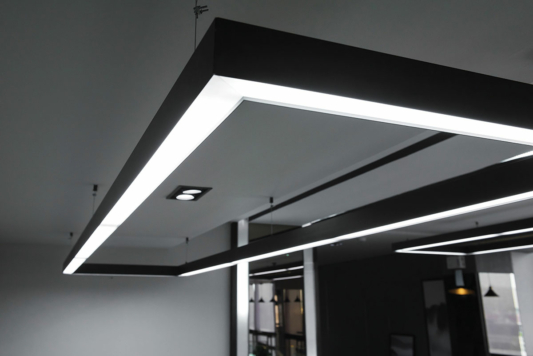 Light is one of the most important space-shaping elements.
Therefore it is worth to consider the quality of the selected lighting fixtures.
Find out more about our LED Profiles, Acoustic lighting fixtures and acoustic panels.
---
You could try our E-Business platform without registration where you have an access to the all products, their prices, stock availability, delivery time and technical information.
Description
LED profiles are innovative solution of lighting that is functional and decorative at the same time. They emit high quality light and have compact form, also are matching with contemporary furniture, enable a multitude of arrangements.
The LED profiles can be connected in order to achieve the lighting line of the desired length. They are energy-efficient and give opportunity to achieve an astonishing lighting effect in any interior.
Browse all products of this category here:
According to the latest trends they are one of the most commonly used lighting solutions not only in the home but also in various commercial premises, restaurants, offices and others.
They give a modern and distinctive style to the room in which they are placed. They are designed for surface and built-in mounting also there are available LED profiles for pendant mounting.
Available in three colours – white, grey and black.
What do we offer
LED profiles that ELMARK offers are basically two types – profiles for recessed mounting and profiles for surface installation. The profiles for surface installation also have an option for hanging by mounting suspension wires – with or without console.
The S36, S48 and S77 series for surface mounting are available with different power and luminous flux from 12W/1140lm to 64W/6080lm. An important indicator when choosing an energy-efficient lighting fixture is the ratio of power and luminous flux.
Sometimes luminaires with the same power offer different light intensity.
LED profiles for recessed mounting complete with the additional elements that we offer allow the construction of not only spectacular but also effective lighting in the office.
LED profiles with the ELMARK brand are preferred, not only because of the great variety but also because of the quality of the product and the good price.
The S48 HIGH POWER series has a built-in SAMSUNG light source and like all other products in this category you can get an additional 2 years warranty.
The color temperature of the LED profiles is neutral within 4000K, which provides good lighting in the rooms and is as close as possible to daylight.
We also have the Ultra Thin LED profiles S36 series, with option for recessed mounting and power 9W; 18W and 22.5 W. The smallest variant is at 600mm in length with 630 lumens, and the largest is at 1500mm and 1525 lumens.
When to choose LED profiles instead of chandeliers
LED profiles are ideal when there is a lot of space to ceiling space to cover or when the rooms are narrow and the ceilings are low. Such cases would be office spaces, corridors and pathways that require a bit more finessing when utilizing the space in them.
However, these LED profiles also go along really well with LED panels since they match the overall aesthetic of clean lines and modernistic interior approaches. These products differ in their mounting positions, though both product lines have surface and interior mounting options which would also synergize quite well.
Chandeliers are great for lighting up spaces with high ceilings as they can not only fill the room, but also provide an accent. Since no two houses or spaces are alike, we at ElmarkHolding.eu provide a wide range of lighting options to match the interior design needs of all of our customers.