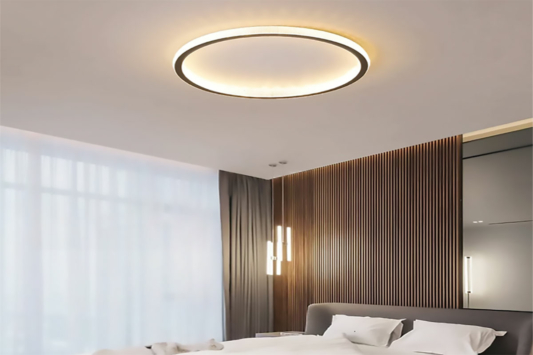 Lighting fixtures, which give a great opportunity to emphasize the design of the room and complement the decor.
---
You could try our E-Business platform without registration where you have an access to the all products, their prices, stock availability, delivery time and technical information.
Description
We could offer you wall or ceiling lighting in different styles that suit every type of interior. They will certainly give more coziness and pleasant lighting to each room where they are placed.
Browse all our LED wall and ceiling lamps here:
Ceiling lights are suitable for rooms with a lower height. We offer them in different sizes so you can place them in large or small rooms.
In both cases they are perfect source of general lighting, with light beautifully and evenly distributed light throughout the room.
Apart from the variety in the color light scheme, you can also be satisfied with the possibility to choose the light intensity thanks to the models with dimming option. For even greater convenience, we also offer ceiling lamps with in-build sensor.
Wall lamps create a mood and complement the overall look of the room. We offer a wide variety of wall lamps from which to choose the most suitable. The choice depends on the height of the ceiling in the room and the size of the wall.
We offer wall lamps with the ability to illuminate above, down or behind the lamp, which creating impressive lighting effects. The lighting fixtures are suitable for living rooms, bedrooms or meeting rooms for business needs.
They are available with silver elements, bronze or wooden details for classic look, with crystals on them that beautifully reflect the light, color solutions for fresh mood.
What sort of ceiling and wall lamps do we offer
We offer a wide variety suitable for domestic and office use. It ranges in ingress protection from IP20, IP54 and IP65 and with varying degrees of functionality. In general we provide lights with sensors, lights with USB charging and lights with rounded, square or oval features, which are a perfect fit for any occasion.
Ceiling lights
If you are looking for a simplistic, yet stylish ceiling light, we suggest you take a look at the AMY Super Slim models which come in a square, rounded edges shape. These variations are extremely low profile, and come in several variations – 12W; 18W and 24W each with different brightness and reach.
The largest variation is a 24W – 1920 lumen model with outside dimensions of 375/375 mm – they are a perfect fit for low ceiling rooms which still need an appropriate amount of lighting.
There are also the DONUT variations which are Round Ceiling Lamps in the shape of a donut, with two specific models which come with 20W – 1300 lumens – 285mm radius, and 32W – 2000 lumens – 385mm radius variation.
The DONUT models are perfect for any location, but especially for lighting doorways, hallways and large spaces since their round shape will spread the light equally. Their ingress protection is IP20.
Wall Lights
We have several fantastic wall light fixtures suitable for different spaces, including offices, bedrooms and any room which needs that special feeling and atmosphere. The LED Wall Lights come in Round, Square and Rounded variations with an IP65 protection.
We also have utility lamps for cabinets like the Cabinet Lamp with sensor, LED night Lamp with USB charging and the Cabinet Hinge LED light for illuminating the inside of wardrobes and cabinets.