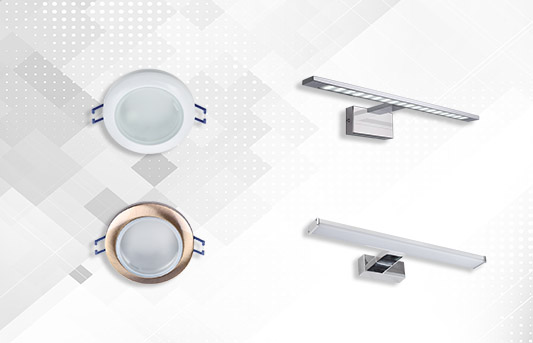 More opportunities to make bathroom another cozy place in your home.
---
You could try our E-Business platform without registration where you have an access to the all products, their prices, stock availability, delivery time and technical information.
Description
We offer waterproof lighting fixtures that you can install in the bathroom. They can be used both for general lighting and for local lighting. For general lighting are suitable waterproof LED panels and downlights for in-build mounting. They are available with IP44 and IP65, color temperature 4000K and 6500K, round and square shape. Mirror lights such as Poseidon,Triton, Alexa series and wall lights are suitable for local lighting for specific visual tasks, such as putting on make-up or shaving. Downlights can also be used as ambience lighting for a comfortable mood.
Here you will find LED panels with emergency kit, with which you can be sure that even if the electric supply fails you will have enough light up to 2 hours.
All luminaires we offer are made of high quality materials. We offer lighting fixtures with built-in high quality LED light source and those with the possibility of placing a LED lamp with variety of power supply. They are available in different colors – white, antique brass, chrome, satin nickel.
Browse all products of this category here: