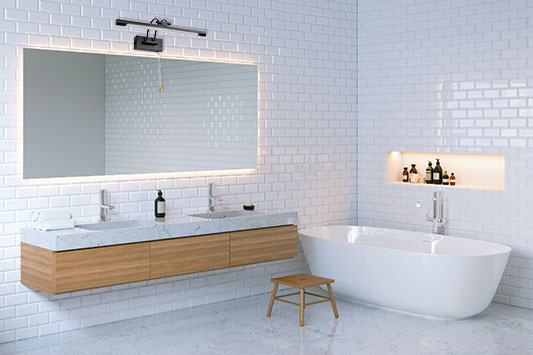 More opportunities to make bathroom another cozy place in your home.
---
You could try our E-Business platform without registration where you have an access to the all products, their prices, stock availability, delivery time and technical information.
Description
We offer waterproof lighting fixtures that you can install in the bathroom. They can be used both for general lighting and for local lighting.
For general lighting are suitable waterproof LED panels and downlights for in-build mounting. They are available with IP44 and IP65, color temperature 4000K and 6500K, round and square shape.
Browse all products of this category here:
Lighting fixtures for mirrors such as Poseidon, Triton, Alexa series, and wall lights are suitable for local lighting for specific visual tasks, such as putting on make-up or shaving. Downlights can also be used as ambiance lighting for a comfortable mood.
Here you will find LED panels with an emergency kit, with which you can be sure that even if the electric supply fails you will have enough light for up to 2 hours.
All luminaires we offer are made of high-quality materials. We offer lighting fixtures with built-in high-quality LED light sources and those with the possibility of placing a LED lamp with variety of power supplies.
They are available in different colors – white, antique brass, chrome, satin nickel.
Where are waterproof light fixtures most useful
There is something that needs to be said about waterproof lighting – it is the unsung hero of each home decoration. These types of lights play a very important role in the security and utility of a home environment, especially in damp locations like pools, patios, walkways, and bathrooms.
The thing that sets them apart is their compact size, the light intensity they can provide, and the security that they come with. These light sources can withstand water, meaning that they can be mounted in wet premisses exposed directly to water.
In order to properly utilize such devices, the electrical wiring system must be up to date, allowing the user to securely install the lights without worrying about short circuits.
One of the common uses of these types of lighting fixtures is, of course like bathroom lighting. As one of the most damp and wet spaces in a property, the bathroom requires sufficient light in order for it to be safe to use and to reduce trip and slip hazards.
A good way to provide light to an entire room is to have it high up, and with the waterproof LED panel round variations, you can easily light up a large area. These models come in several sizes and light intensities, give the user the freedom of choice so they can arrange their interior lighting according to their personal preference.
There are also horizontal variations which are a perfect spotlight, ideal for installing over counter space, sinks, and mirrors. If you need that extra bit of attention to detail, we recommend you take a look at the TRITON or Mirror Light selection which comes in extra luxury sizes and designs.
They are a perfect addition to any bathroom lights, regardless of the style and choice of the user. The ElmarkHolding.eu team is more than happy to assist in providing you with a selection and recommendations, in case you are finding it difficult to pick one yourself – feel free to contact us.