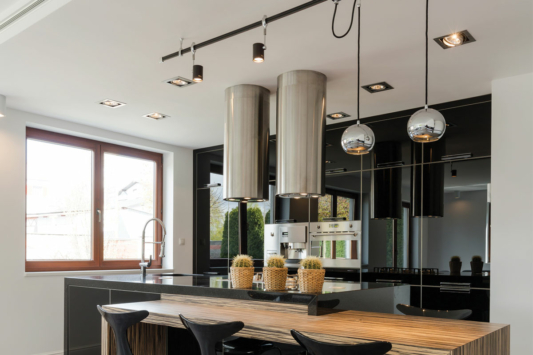 Modern style with bizarre shapes.
Design proposals which give a new vision for lighting.
---
You could try our E-Business platform without registration where you have an access to the all products, their prices, stock availability, delivery time and technical information.
Description
They combine different shapes, materials that refract light at a certain angle, modern color solutions that have a decorative character. Lamps in this collection are particularly eye-catching with their colors and materials like wood, antique brass, glass, and others.
Our "Design collection" includes chandeliers, pendant lighting, spot lightings, wall lamps, ceiling lamps, and table lamps. All of them are designed for LED bulbs.
Browse our collection Design here:
How to combine different lighting designs into one space
One of the biggest difficulties an interior designer will face is when a client requests that they combine more than two designs into one. Our design collection will make this easy due to the variety of choices, the different materials, textures, and colors we have implemented in the creation of these products.
The most important thing when combining designs is to look for similarities between the different collections, and then try and match them into one. A good example is the LOREN ceiling lamps which have a simplistic yet quite a distinguished look – they provide freedom of expression, which means that you can mold and use them in any way you see fit.
There are other choices, like the MARISA's design which is a bit more particular, which means that it is not as easy to combine with other choices from other collections. However, they will go great with the counterparts which you can find here – again, it really depends on the style you are going for.
The biggest plus to the MARISA line is that it is quite forgiving in terms of the space that it takes, as it is a chandelier that is very compact in its vertical dimensions. The source of crystal light will be higher than most chandeliers, meaning that it's a great choice for lower ceiling rooms, such as basements, kitchens, or lofts.
Combine colors and shapes
What will definitely stand out to you as you go through our selection, is that all of these designs have something in common – they all possess a sense of class and modernism at the same time. When combining colors and shapes, it is important to follow the rule of similarities, without going too far – which means that monotone colors will be a fantastic choice, if they are used as an accent rather than a base.
If we go one step further, you will also see that choices like the ERMINA collection will work great with a more modernistic lighting ensemble, but will not be such a good choice for a warmer-looking interior. This is due to their metallic shine, the shape of the bulbs and diffusers as well as the tint of the glass, which is most commonly associated with colder, wider spaces like galleries and open space living rooms.
This does not mean that you cannot use them for lower ceiling locations or for smaller rooms, however, they will be an accent and will dictate the rest of the design of that space. Keep in mind, that you also need quite a lot of headroom to use these types of lamps, because they do have some sizeable dimensions.