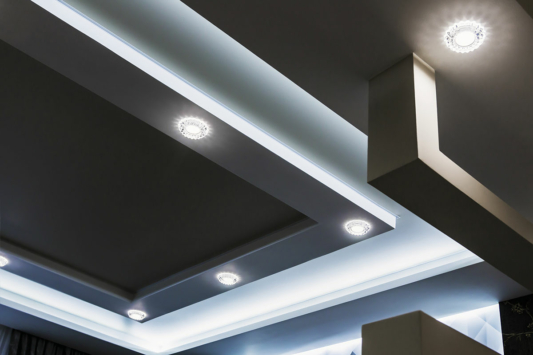 Modern with amazing lighting effect.
A wide variety of downlights – shape, size, material and type of light source.
---
You could try our E-Business platform without registration where you have an access to the all products, their prices, stock availability, delivery time and technical information.
Description
LED downlights are a modern set lighting which can perfectly fit with any room or interior design choice. They can be used individually or in a set, and according to their number or position, you could use them as main source of lighting in a room or for creating an accented lighting segment.
If you want to use them as main lighting in a room, you should consider installing a whole set or more. If you want to use them as accent lighting you can use rotatable downlights or LED lights screwfix variants.
Browse all our LED downlight models here:
These sort of small ceiling lights, help save space which is especially useful in small rooms or in rooms with low ceilings. There are big LED downlights included in our product catalogue too which are suitable for large areas, in office or commercial premises.
The luminaries come in round or square shapes and are designed for surface mounting or recessed mounting. They are available with protection IP20 and waterproof protection IP44, making them suitable for bathrooms and wet area use.
How to pick the right downlight LED fixtures
There are some main things you should take into consideration when making your choice. This will help you pick the thing that will work best for you and the light source which will provide you with the right atmosphere and warmth.
Style of the current room
The style of the current room or what you've planned for it, will heavily dictate what sort of downlight you will be using. It should fit into the current atmosphere and either add or not hinder it in any way.
When you have a more classical, and quite vintage room, a good example for a proper choice would be the models CR-733 and CR-722;CR-721 which are crystal recessed downlights. They provide quite a pleasant atmosphere as they are partially transparent and are able to disperse the light into different, star-patterns.
Depending on the base and the presence of a back plate, a downlight may serve as an adequate additive to an already established interior design.
Height of the ceiling
The height of a ceiling will greatly determine what sort of downlight you should choose. As we mentioned above, there are recessed or surface mounted options, as well as elongated and large style of lights, which will greatly determine the way light is dispersed through a room.
Type of ceiling
The type of the ceiling will also determine what sort of lighting you can install. If it's a concrete ceiling, then going for a recessed light will not make much sense. They are most commonly used on plasterboard ceilings which are easy to work with and manipulate.
The model GYPSYM downlights and GYPSUM wall fixtures are a fantastic choice when handling hard to work with ceiling varieties. They have a standard IP20 ingress protection and they come in different shapes – square, elongated and circular.
Their purpose
Another vital consideration is their purpose – whether they'd be used as a main source of light, or as a supplementary source. If you are looking for a more high intensity and Lumen source of light, there are some "cluster" variations like the SA-045 LED downlights which come either with 3 or 4 LED light bulb positions.
The type of room and environment
The IP20 ingress protection is only rated for dust and debris protection and should be used in environments which will not be seeing any moisture. The IP44 variations, on the other hand, are perfect for Spa rooms, bathrooms and kitchens and will provide the ability to adjust the angle of the light.