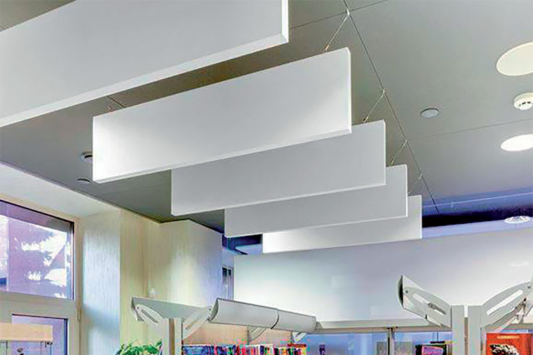 A comfortable and pleasant atmosphere for work and rest.
Description
Acoustic panels and acoustic lighting fixtures are an innovative and at the same time attractive way to reduce the noise pollution of the room. They have the ability to absorb sounds and in combination with the proper light create an extremely pleasant atmosphere for work improve speech intelligibility and communication.
Unlike acoustic wall panels, these do not take up space in the room, they are easy to install and can be placed in smaller rooms.
Browse all products of this category here:
Acoustic sound panels find application in many work and office spaces, conference and presentation halls, meeting rooms, retails, institutional buildings. They can be mounted on the ceiling in rows or columns. Available in three colours.
What do we offer
We offer a comprehensive range of acoustic LED profiles in two main shapes, squares and rings – with ceiling mounting and hanging. The benefits of products like these are that they provide an aesthetic touch to a room, giving enough space, avoiding the suffocating feeling of a massive lighting fixtures, without compromising the actual illumination of a room.
The idea behind an acoustic profile is to provide a dampening of sound waves in a room, basically breaking them up and reducing the echo. This is a way to control sound wave feedback, and we are providing a series of products which not only add to the atmosphere of a room, but also can be used as stylish light fixtures.
A good example of this are the acoustic light powered LED profiles S36 series used for hanging mounting. These acoustic ceiling products come in 3 general series and power options from 20W, 40W and 50W.
They respectively have 1600lm; 3200lm and 4000 lumens with dimensions of 600mm;1200mm and 1600mm. Their ingress protection is IP40 and is suitable for indoors use only.
Another good choice would be the Acoustic LED Rings which come in 3 colors – black, white and gray and vary greatly in size, power and illumination capabilities. The most luminous variant is the 65W – 6500 lumens 1150 mm diameter ring which can be a fantastic addition to any room with enough height.
Why and when are these acoustic light fixtures used
These sort of acoustic fixtures are used in offices and conference rooms, music halls and other spaces where the ceilings are high. Their application has several important effects, one of which is for filling the empty visual space of a high ceiling facility.
Another big benefit of these is that they act as noise cancelation or reduction, which can be quite helpful especially in speaking areas where sound quality is important. While they do provide this noise dampening option, they are also quite good at lighting up spaces.
Due to the circular nature of the ACOUSTIC LED RINGS, the lighting on the periphery of the rings creates a halo-like effect on the acoustic boards. They come with an IP40 ingress protection making them ideal for hanging from high ceilings where maintenance is difficult.
This level of ingress protection prevents dust from entering into the LED light channels which provide an overall reduced need for maintenance.