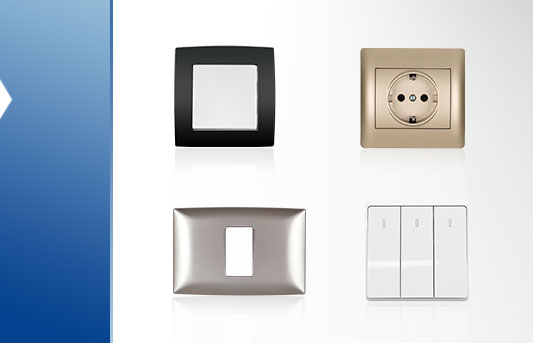 Switches and sockets for complete installation of home and office.
---
You could try our E-Business platform without registration where you have an access to the all products, their prices, stock availability, delivery time and technical information.
Description
In the Elmark product catalog we present three series of switches and sockets with a wide variety of functions and colors. We provide three designs for sockets and switches – City, Lecce and Rhyme.
With them you can find a splendid combination of different functions in a decorative form factors which will add to an already exquisite environment.
Browse all products of this category here:
City series
This series is a modern and functional selection of over 19 functionality choices and 10 different colorful and decorative frames with a brushed texture akin to a metallic finish. The colors range from Champagne, Bordo, Grey, Orange, Yellow, Blue and Green.
This series provides an even wide range of functionality, from the standard switches and plug socket-types, to a dimmer switch LED 3-300W as well as:
Key card power switch;
3 button 1 way switch;
German screw type socket;
Phone socket Ru11;
Motion sensor 200W;
German screw type socket with 2xUSB ports.
There are also light switch covers, toggle switch variations, additional USB plug socket and a double pole switch. The biggest pro of this selection, is its modernistic design which adds to the overall feel of the interior design.
Lecce series
LECCE is the modular series of Elmark, which will provide a sophisticated and professional look to any room. It allows the installation of any function in a small space including, but not limited to:
Double pole switch;
Electric sockets;
TV socket;
Computer (Ethernet) socket;
Phone line socket;
Satellite socket;
Key power switch (for hotel rooms and private homes);
LED dimmer rated at 200VA with 3 mood settings;
Audio socket.
The biggest advantage of this model series is its rather spectacular and stylish design which can accentuate any sort of environment. They look great, provide additional functionality and are easy to maintain and keep clean even in an office space.
Rhyme series
The RHYME series is our classic approach to interior design for electric sockets. It's suitable for any interiors and it goes great with simplistic environments as it comes in stylish colors and the necessary variety of functions which we've listed above.
The use of the RHYME series is recommended if you are unable to plan the entire interior design and would like use a universal looking phone or TV socket. It is also a useful ally whenever you'd like to transition from one style of interior design to another, since it is the most fluid and universal looking.
It is also ideal for a minimalist approach which is becoming more and more prevalent in offices and households around the EU.
In this category you will also find moisture-resistant switches and sockets, suitable for installation in open spaces or in damp rooms. They are with a IP44 rating which makes them ideal for any adverse environment which would make the use of other sockets quite a bit more difficult or dangerous. This is what makes our selection of switches and sockets so popular.