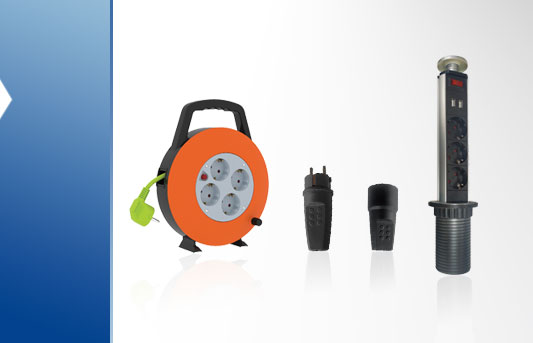 Easy to switched on anywhere.
---
You could try our E-Business platform without registration where you have an access to the all products, their prices, stock availability, delivery time and technical information.
Description
Cable reels have application in industrial premises and workshops. They reach places up to 50 m away and after work the cable can be wound without creating preconditions for tripping and accidents.
Browse all products of this category and full technical information here:
The reels that Elmark offers are with thermal protection with four sockets, various type of cables and length from 10 to 50 m. There are available cable reels with waterproof contacts and cable with length 25- 30 m, reels with industrial contacts and cable.
The category also includes multi plugs with different number of sockets and different length and cable cross-sections, multi plugs with key and children protection, adapters with two or three sockets, different plugs – rubberized with IP44 or Bakelite.
What uses do our plugs and reels provide
There are outdoor work activities which our outdoor extension reels and screwfix extension leads accommodate in a safe and convenient way. They are specifically designed to withstand water and can be safely used outside, in a garden or in circumstances which would otherwise be hazardous.
Depending on the length, a reel can be quite useful and provide a high degree of utility since it has enough plug space for 4 or more plugs. There are, however, important limitations which need to be met in terms of usage – for example the reel needs to be fully unfurled in order for it to be used by a high voltage tool like a welder.
While these products do provide a high voltage and surcharge protection, the bunched up strands of a cable on a reel, can produce quite a lot of resistance, which will damage the reel. Our recommendation is to fully extend the cord and then use it for high voltage operations like welding and acetylene torch use.
What sort of outdoor extension and plug extensions do we offer
At ElmarkHolding.eu you can find a full range of reels and leads with specific voltages in mind. All reels come with a built-in thermal protection like our MAK-2A, MAK-3 and MAK-4 variants which are generally 10m; 20m and up to 50m respectively.
For full ingress protection and complete outdoor extension reel safety use, we suggest you take a look at the Cable Reel – HJR type with IP44 protection – it comes in at 25m and 50m – and for a hassle free experience we even have an orange extension cords from 10 to 15 meters in length.
We also have shorter extension cords and multiplugs from 3 to 8 holes available, all at 2m cable length and built-in switch. These are the Multiplug 3 to 8 hole with key variations and their waterproof variants are the ODL IP44 variations which come with 3 covered holes and a cord at 1,5 meters.
For a more modern yet familiar look, we've also provided you with a choice between the HKX-3N, 4N and 6N variants which range from 1.5 to 5 meters in length. They have a light up-switch to indicate whether the cord is under load or not – they are safe to use indoors and can provide quite a great of utility to any garage or home improvement operation.