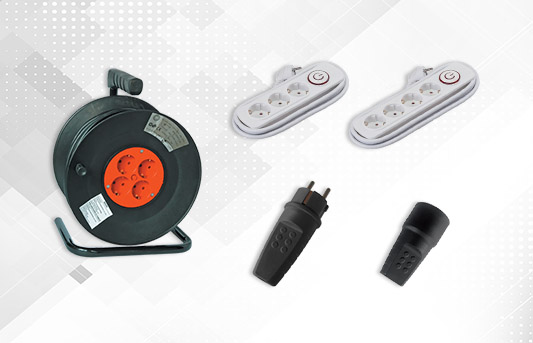 Easy to switched on anywhere.
---
You could try our E-Business platform without registration where you have an access to the all products, their prices, stock availability, delivery time and technical information.
Description
Cable reels have application in industrial premises and workshops. They reach places up to 50 m away and after work the cable can be wound without creating preconditions for tripping and accidents.
The reels that Elmark offers are with thermal protection with four sockets, various type of cables and length from 10 to 50 m. There are available cable reels with waterproof contacts and cable with length 25- 30 m, reels with industrial contacts and cable.
The category also includes multi plugs with different number of sockets and different length and cable cross-sections, multi plugs with key and children protection, adapters with two or three sockets, different plugs – rubberized with IP44 or bakelite.
Browse all products of this category and full technical information here: