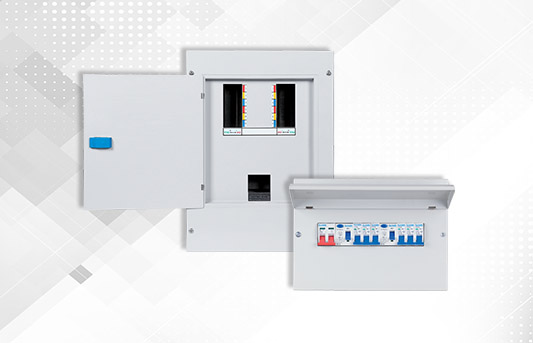 Secure protection of your electrical installation from fire and water.
---
You could try our E-Business platform without registration where you have an access to the all products, their prices, stock availability, delivery time and technical information.
Description
The metal distribution boxes and boards that we offer have wide range of application for mounting in buildings under construction or new communal objects, offices, shops, house facilities. Inside the box, could be mounted circuit elements for protection in the electrical installation. They are made of high quality electro-galvanized steel sheet and provide proper prevention from fire. They are shock-proof as well. The box is also equipped with zero and ground terminals.
We offer several series of metal distribution boxes and boards. Series Sigma for recessed mounting with 8,12,16 or 22 modules; series Delta for surface mounting with single or triple phase; series Zeta with 30, 36, 45, 60 or 72 modules, all with IP40. Distribution boards are presented in two series JFX and SXF in various sizes with ingress protection IP65. The distribution boards in both series are supplied with a special lock, metal plate for fixing of electrical devices, lid for the input-output conductors, grounded dowel pin, gaskets, etc.
Browse all products of this category and full technical information here: