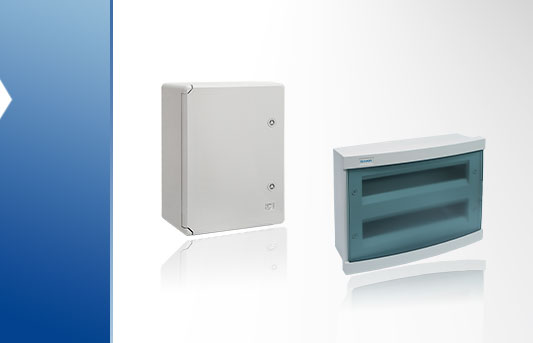 High-quality plastic boxes and plastic boards.
---
You could try our E-Business platform without registration where you have an access to the all products, their prices, stock availability, delivery time and technical information.
Description
In this category are included two main types of products – plastic distribution boards and plastic distribution boxes.
Plastic distribution boxes could be intended for recessed mounting or for surface mounting. Some of the products are waterproof which means that are perfect for outdoor mounting.
Browse all products of this category and full technical information here:
Distribution boxes are a module box with mounted protective devices of the given flats electrical current circuit circles. They are available with transparent door for each row opening upwards to 90°.
They are made of white self-extinguishing plastic, resistant to heat and high temperature. The mounted device in the box is protected from direct contact to the current leading parts.
They are offered with DIN-rail for device mounting and terminal strips for the neutral and earthing conductor joining.
We offer plastic distribution boards of various sizes. Intended for extension or distribution of cable lines. They can also be used as meter boxes. They are resistant to chemical agents, thermal and UV rays.
All they are designed for mounting in newly built buildings or buildings in reconstruction.
What sort of distribution boards and boxes do we offer
The different offers we provide we grade on several categories – capacity, mounting options, colors, accessibility and ingress protection. These boards and boxes have a central part in the control of an electrical system and can house a wide range of devices like electrical meters, fuses, switchers, disconnections, isolators and so much more.
Since they are a housing for all of these devices, they need to provide protection and easy of accessibility at the same time. The Blue series models offer a good visibility, with a semi-transparent hatch system which has a click hatch opening, providing a one-hand way of opening the small door.
This series has a wide range of capacity for modules, from 12 to 36 at a time and comes with a IP40 ingress protection which is ideal for basements, inside spaces or anywhere where there is going to be a lot of dust and grime.
Then we also have the Mini Series which is ideal for flush installation, providing a clean look and a lot of practicality for small spaces. There are even 3 phase distribution board variations to this and other products, giving production companies and industry officials a way of protecting their electrical wiring and different devices.
There is enough inner space in each of these series to give you plenty of space to modify and work with.
In case you need a versatile type of electric distribution box, we advise that you take a look at the ATTIS series, it comes with IP40 protection and is also suitable for households and industrial use.
Each and every one of our products is rated for specific use, with variations covering the IP65 ingress protection and different types of electrical currents. The 3 phase boxes are a lot more resistant to heat and can even be used outside since they have UV protection which is often used for weather and sunlight protection.
If you are looking to protect your property, electrical systems, or just want to create a more controlled environment for the different electrical devices – we suggest you take a deeper look at our catalogue.