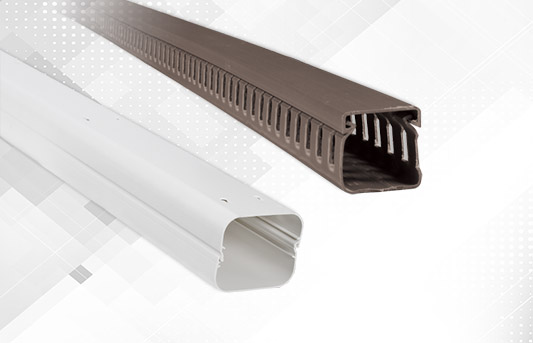 Еasy and convenient organizing and protecting the cables.
---
You could try our E-Business platform without registration where you have an access to the all products, their prices, stock availability, delivery time and technical information.
Description
Cable trunkings are practical solution of organizing power and communication cables in offices and residential buildings. They increase the reliability in operation of the electrical systems and allow quick adaptation if necessary to rearrange the interior. Fast and simple installation. In combination with a wide range of accessories, building irregularities are quickly overcome. Non- flammable material, easy to cut and paint.
In our portfolio there are various type of plastic cable trunkings: universal; self-adhesive; slotted; for floor and air-conditioning systems. They are available in different sizes and colors. Mounting accessories are also available.
Here you can find cable trunking with frames which are decorative solution for installation of switches and sockets on places where their normal mounting is not possible. The assembly set includes subframe and main white frame. Universal sizes, suitable for mounting of switches and sockets from different manufacturers. Single, double and triple frames are offered.
Browse all products of this category and full technical information here: