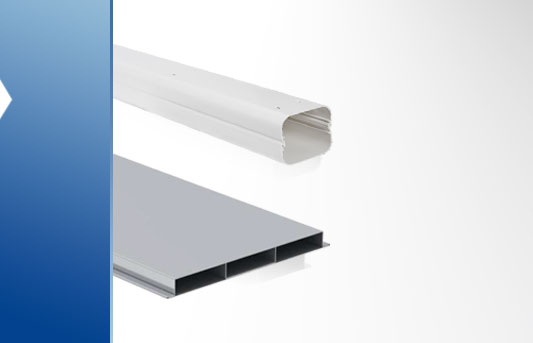 Еasy and convenient organizing and protecting the cables.
---
You could try our E-Business platform without registration where you have an access to the all products, their prices, stock availability, delivery time and technical information.
Description
Cable trunkings are practical solution of organizing power and communication cables in offices and residential buildings. They increase the reliability in operation of the electrical systems and allow quick adaptation if necessary to rearrange the interior.
Browse all products of this category and full technical information here:
Fast and simple installation. In combination with a wide range of accessories, building irregularities are quickly overcome. Non- flammable material, easy to cut and paint.
In our portfolio there are various type of plastic cable trunkings: universal; self-adhesive; slotted; for floor and air-conditioning systems. They are available in different sizes and colors. Mounting accessories are also available.
Here you can find cable trunking with frames which are decorative solution for installation of switches and sockets on places where their normal mounting is not possible. The assembly set includes subframe and main white frame.
Universal sizes, suitable for mounting of switches and sockets from different manufacturers. Single, double and triple frames are offered.
How does plastic cable trunking help
The main use of plastic trunking is to conceal and protect any sort of cabling, whether that would be network communications, or electrical cables. The wider range of products we provide, gives users the flexibility of choice when searching for the right way of concealing and protecting their cables.
A good example of this are the kitchen corner cable trunkings which provide a double functionality involving the protection of the edges of corner space from water ingress, while also providing a space for cabling. They are easy to install, and with the added accessories, can be an stylish addition to any kitchen.
Another use for cable trunking, regardless of the choice, is to actually tidy up a space and provide a safe way running cables across a floor. Using the right cable with reduce tripping hazards in living and working premisses and can add to the protection of the cabling, especially with sensitive and intricate cabling like Ethernet cables
The floor type cable trunkings CT2 series comes in different variations of sizes, from a 75X20mm one, to a 90x20mm trunking. They can be installed in several different ways, from silicone and double-sided tape, to screws and mounting to the preferred surface.
What else do we offer
We also offer a wide range of sizes which allow you to implement the protection of more cabling in one singular spot. This is quite useful in offices and spaces where cabling is abundant which is why, with our CT2 plastic cable trunking products, we have 12x12mm to 100x60mm variations to choose from.
The smooth finish on these products can be used as a solid base for paints, spray paints and even masking foils. However, if you are looking for a specific color which you'd like to combine with an existing aesthetic, you can take a look at our colored variations.
The added functionality of our selection comes from the accessory selection like the T or L corners which could tidy up a cabling job and make it look at lot neater. We also have connectors and end caps which are an ideal solution to an expanding installation.