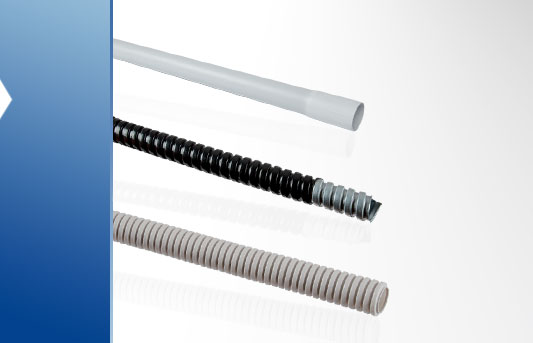 Practical solution for protecting and organizing cables in the electrical installation.
---
You could try our E-Business platform without registration where you have an access to the all products, their prices, stock availability, delivery time and technical information.
Description
An simple and practical solution of organizing and protect power and communication cables in office and residential buildings. They increase the reliability in operation of the electrical systems.
Fast and easy installation. In combination with a wide range of accessories, building irregularities are quickly overcome. Non-flammable material, easy to cut and painting.
Browse all products of this category and full technical information here:
There are available solid insulating conduit and flexible insulating conduit made of shock resistance technopolymer on rigid PVC base and flexible insulating conduit.
What are the uses of flexible conduits and conduit pipes
There are several applications in regards to both rigid and flexible cable conduits. These applications depend on the specifications of an installation and can be used for both indoors and outdoors use.
As protective gear, these tubes and accessories are most often used to both protect the cables and the users. When applied outside, their utility, combined with the added flexibility of the different accessories, prevent sunlight and water ingress from damaging sensitive communication cables.
Depending on the needs of the current installation, cables can be combined with other types of trunking or cable management utilities with ease. A good example of this is the flexible double coat corrugated pipe which is most often used from ground-bound cabling and communications.
Its goal is to provide adequate protection from animals, pressure and degeneration of the cabling insulation through moisture and friction. The wide diameter of this type of cabling, as well as the added insulation, also prevents freezing and further damaging of the cables, which reduces maintenance costs and other unpleasant, but necessary steps towards infrastructure improvement.
What sort of cable conduits do we offer
There are two distinct materials which are used in the manufacturing of cable conduits – one is PVC and the other one is technopolymer, with the notable exception of PVC covered steel spiral. This variation of products provides enough utility for construction and cable management as well as promotes safety and better communications investments.
The PVC insulated steel spiral comes in several different size variations with different inner and outer dimensions, with the smallest one coming in at 11mm for inner and 15.2mm for outer diameter. The largest variation is a 37mm inner and 42.4mm outer diameter variation.
Then we also have the self-extinguishing variations which are made out of PVC and provide protection for the surroundings as well as the cables. In the case of an electrical fire, or an otherwise compromised circumstance, these cables will be able to put themselves out, reducing the fuel for a fire.
Such a type of cabling come in both rigid and flexible variations like the PVC Self-extinguishing  insulating conduit EC which come in at 16mm exterior diameter up to 40mm exterior. Their accessories are numerous and provide both rigid and flexible variations for 90 degrees bends, joints from conduit to conduit, conduits to boxes and flexible attachments to rigid attachment transitions.
The PVC variations are also available in flexible and rigid variations, with the PVC bend flexible variation and the PVC bend rigid 90 degrees. There are also wall and ceiling mounted clips which can assist in the installation of such flexible cable trunking.