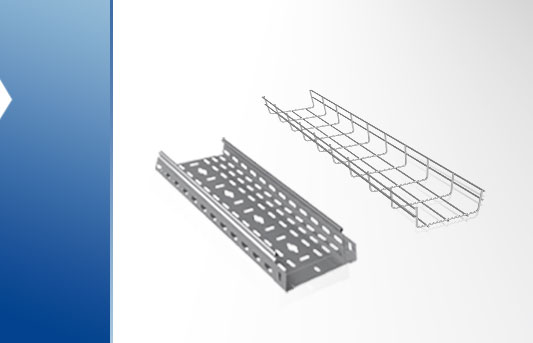 The universal cable support systems.
---
You could try our E-Business platform without registration where you have an access to the all products, their prices, stock availability, delivery time and technical information.
Description
The universal cable support systems are used for construction of cable link in closed production premises for direct mounting on even vertical surfaces. They are perforated metal grates and accessories with standard lengths and sizes. They allow quick construction of cable systems with many angles and derivations.
Browse all products of this category and full technical information here:
What sort of uses do our cable support systems have
Cable support systems have a wide range of cable management applications, mostly applied in indoor circumstances. These support systems allow builders to create special channels in buildings, without resorting to putting cables into the wall.
This flexible approach gives freedom for cable management and changes in cable infrastructure any time it's required. The cables which can be supported using this system range from power cables and conduits, to communication cables and networking infrastructures.
There are several different methods of mounting, which provide a varied and flexible cable support options ranging from surface mounting to hanging from ceilings. In order to achieve the right height, we at ElmarkHolding.eu have provided a selection of THREADED HANGING RODS with different lengths and thread sizes from M6, M8 to M10 thread standard – the production length of these rods is 1000mm.
For surface mounting like vertical or horizontal mounting, it's recommended that the appropriate mounting accessories are used. The cable tray designs allow for easy access and ease of installation to a number of surfaces, with enough space between grades for surface brackets to be used without obstruction or interference with the geometry of the trays.
What selection of products our catalogues hold
We provide a full selection of products suitable for the creation of wide-spread cable support systems. The product line name is CT1 UT and it contains every required component for the construction and installation of a property-wide network of cable support systems.
Our selection includes CT1 UT CABLE TRAYS with differing sizes ranging from 40x50mm all the way up to 60x300mm sizes along with the corresponding CT1 UT CABLE TRAY COVERS with sizes from 10x50mm all the way up to 10x300mm.
If your particular system requires an extension of an existing or upcoming part, we also provide CT1 COUPLER FOR TRAYS WITH THE SAME SIZE with 40mm in width and 250mm in length.
To provide appropriate support for hanging installations, we also provide the CT1 hanging support system which ranges in length from 100mm to 300mm. There are also parts of creating entire grids with ANGLE 90D ranging from 100x100mm all the way up to 300x300mm, they also have to have an angle cover with the same dimensions.
In order to have good enough connection between the mounting surface and the trays, we provide additional CT1 HOLDERS for cable trays ranging from 50 to 200mm and specialized holders for trays with a 300mm size.
Why are these cable support systems so valuable
If your particular project does not allow or require the installation of cables into walls, and you'd rather have the cabling running between the ceiling tiles, you can utilize on one of these systems. Depending your needs we can provide the appropriate sizes – one recommendation is that if you have a lot of cable management to do, for you to take a deeper tray, like the 60x300mm variants.