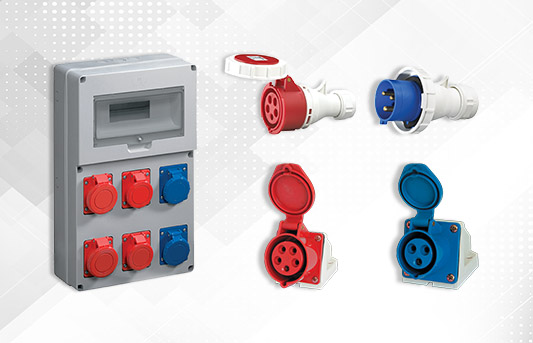 High quality and protection in the industrial area.
---
You could try our E-Business platform without registration where you have an access to the all products, their prices, stock availability, delivery time and technical information.
Description
Elmark offers specially designed plugs and sockets for installation in industrial buildings or outdoors. All plugs and sockets are made of special high quality plastic with alloys against aging at sun light exposing and for increasing the mechanical strength. They are designed in accordance with standard EN 60309 and provide reliable connection and high protection level against electrical current. They have ingress protection IP44 and IP67. They are designed for surface or recessed mounting, movable or fixed type.
Distribution boards 690 series can be safely used for temporary installation such as construction sites, markets, fairs, etc. They are made of shock resistant material , halogen free technopolymer on ABS base with resistance to UV rays. They are suitable for outdoor use, thanks to the high impact resistance. The distribution boards are fit to use in different options – movable with handle or fixed on the wall.
Browse all products of this category and full technical information here: