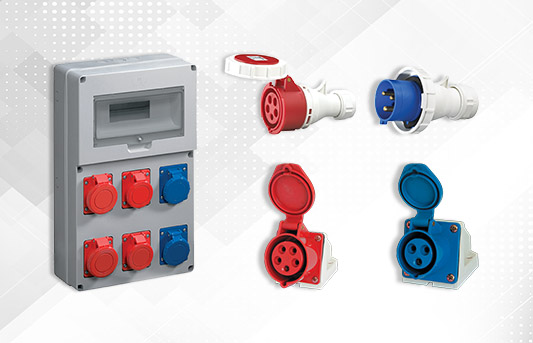 High quality and protection in the industrial area.
---
You could try our E-Business platform without registration where you have an access to the all products, their prices, stock availability, delivery time and technical information.
Description
Elmark offers specially designed plugs and sockets for installation in industrial buildings or outdoors. All plugs and sockets are made of special high-quality plastic with alloys against aging at sunlight exposing and for increasing the mechanical strength.
They are designed in accordance with standard EN 60309 and provide reliable connection and high protection level against electrical current. They have ingress protection IP44 and IP67. They are designed for surface or recessed mounting, movable, or fixed type.
Browse all products of this category and full technical information here:
Distribution boards 690 series can be safely used for temporary installation such as construction sites, markets, fairs, etc. They are made of shock-resistant material, halogen-free technopolymer on ABS base with resistance to UV rays.
They are suitable for outdoor use, thanks to the high impact resistance. The distribution boards are fit to use in different options – movable with a handle or fixed on the wall.
The utility of the 32 amp commando socket with isolator
When it comes to utility, there is little to no comparison when talking about the 32a commando socket. This is a necessary addition to any building sight exactly due to its ever-changing landscape and the need to adapt to those changes.
The utility of this product comes from its secure plugs and the sockets which come with them, allowing users to easily plugin and off high-powered machinery. The rubberized ends of the sockets act as both mechanical damage protection and isolation, allowing the user to safely work with the boards even during inclement weather.
These products also have an application in homes, however, these homes need to be supplied with 32amp energy as well as 3 phase electricity in order for the sockets to be operational. It goes without saying that all installation protocols and safety measures need to be followed for the installation to be completely safe.
Weather and wear protection
When used in an industrial application, these plugs are a fantastic alternative to three-phase plugs because they provide the necessary weather protection. Due to this, it's commonly seen for these boards to be pinned to a post for the day, and then removed and moved to another location without much hassle.
The weather protection features are quite necessary, especially considering that these products are most often used as temporary, movable power sockets around a job site. In order to guarantee the safety, the products come with an isolator that isolates the user from the current even when wet.
The socket and plug interface is quite deep, with 3 major nodules and recesses which correspond to one another. Due to this feature, it's quite impossible for the plugs to be installed the wrong way, meaning that even in the heat of the moment, the user can safely and accurately plugin or off a specific machine.
In terms of maintenance, the only true maintenance is to ensure that there is no ingress grime into the sockets, which could short circuit the machine. A visual inspection is more than enough to provide the necessary information on whether the plug needs to be cleaned or not.