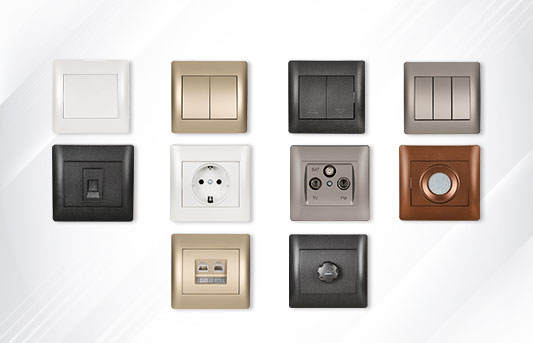 The classic and stylish series.
---
You could try our E-Business platform without registration where you have an access to the all products, their prices, stock availability, delivery time and technical information.
Description
Elmark's RHYME series is presented in five colors and a variety of switches and sockets, suitable for any interior in the home, hotel or office. This series comes with functional parts such as:
One button one/two or cross way switch;
Two buttons one or two way;
Curtain control switch;
Sensor switch;
Dimmer switch;
Bell switch;
German type socket;
Phone socket;
Combined phone socket + computer socket;
TV socket;
Combined TV+FM+SAT socket;
Key card power switch.
There are available decoration panels with 2 to 6 gangs in five colors – white metallic; coffee metallic; grey metallic; graphite metallic and champagne metallic.
Browse all products of this category here:
Where is the Rhyme series most often utilized
We knew that our clients were looking for something with utility and style, something that would fit their home narrative, and yet be able to transport them outside of the norm. So, knowing this, we created the Rhyme series which manages to provide all of this and a lot more.
In terms of utility, the socket and switch series is used most often in main hall areas, in kitchens and dining areas where convenience is most often needed. Of course, due to the wide variety of options, a person can pretty much find a place for any of these types of switches and sockets.
The dimmer would be a great addition to a bedroom, and entertainment area, a home cinema, a children's room or any other space where you feel like you want to control the ambiance a bit more than you usually can.
This is why we are glad to see that so many of our clients who decide to send us feedback and photos, showcase that our selection does find quite a lot of use around the home. It is also important to note that offices and hotels also use our selection, as it does provide a sensible and yet stylish feeling when looked upon.
The keycard power switch has become a staple in any modern hotel room, with a card doubling as room key and power switch for the entire room. Due to the easy integration, these types of switches can also be used in other locations, like garages, showrooms and shops – simply because they provide a more global yet centralized control over the power in a certain room or location.
What are the Rhyme series' advantages
The main advantage of this series is that it comes in several stylish colors, which we've already mentioned above, but that it also provides 6 gang consoles for full integration for all of the important things you want on your wall.
If you want more charge stations for your phones, laptops or USB operated devices, then you can add it to the station. If you want control over the sound of your doorbell, or the surround sound system, or maybe you are looking to control the light situation in your common areas – then you can put all of that in one place so you can adjust everything just the way you like it – all from one location.