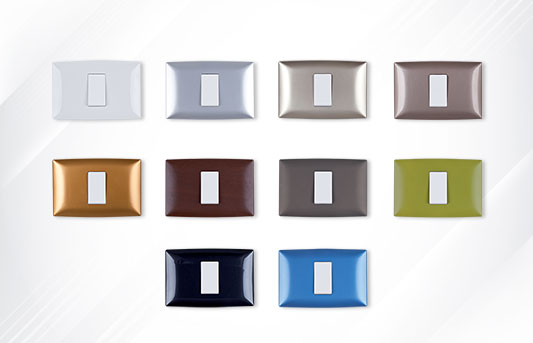 A modern and functional series.
---
You could try our E-Business platform without registration where you have an access to the all products, their prices, stock availability, delivery time and technical information.
Description
In the Elmark catalog you will find a modular series of switches and sockets LECCE. Functional and with a variety of modules and colors, this series is suitable not only for the home, but also for hotel rooms and offices.
The series includes functional parts such as one button switch, one/two way switch or cross switch, bell button, curtain switch, dimmer for lighting and sound dimmer, computer socket, TV socket, telephone sockets, German type socket, Italian standard socket, universal socket, dual USB socket and other.
Browse all products of this category here:
For mounting switches and sockets of series Lecce you will need console box for plasterboard or for brick and concrete. The series includes installation frames (for 1 to 6 modules) and decorative panels for 1 to 6 modules in 10 different colors.
What is the Lecce Series
The Lecce Series is a product line of power and other utility sockets, as well as controllers and other switches, which are distinguished with their fine features and rounded bevels which come down to a refined point, making them ideal for any modern interior design decision.
What also makes them stand out is that they have smart house integration capabilities, allowing domestic users to fully automate some, if not all, of the functions of the house. Our LED Dimmer with 3 mood settings rated at 200V, or the Key power switch, or the curtain switch are just a few examples of the great options this collection will offer you.
What Particular Products do we Offer in This Series
Of course we have the different modules and control systems like the dimmer rated at 250W as well as all sorts of sockets for utilities like the Satellite socket or the TV Cable and Ethernet sockets. These products provide single unit integration to users so they can have a neatly designed entertainment space.
Along with this, we provide a sound dimmer which could be coupled with one of our many doorbell switches or it can be even combined with an intercom or an entertainment system. Our overall selection focuses on integrating electrical wiring and other systems into a neatly and well designed package, which is why we have a wide range of sockets and switches.
Our sockets should be installed with the appropriate console or junction boxes which accommodate the amount of interfaces. For instance, if you want to use our 1 gang cover, then you'd need to use a singular junction box for whatever wall type you have (we provide junction boxes for concrete, brick and plasterboard).
This goes for any other sort of combination, which includes our 2 gang, 3 gang, 6 gang and 2×3 gang covers for sockets and switches. In this way, you will be able to create a multimedia space in your living room, or perhaps control over 6 circuits of lighting around your house or in a single room.
These kinds of integrated smart solutions are the way of the future, and we at ElmarkHolding.eu are firm believers in providing our clients with a way to make their lives easier and more streamlined.