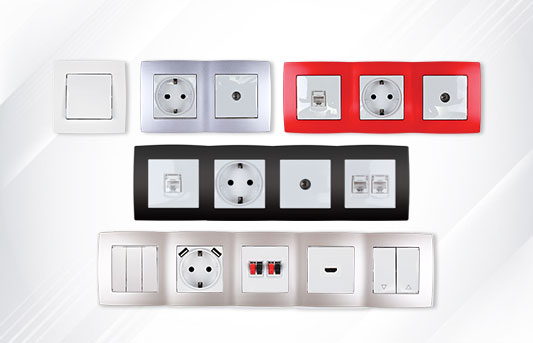 Functional and multicolored.
---
You could try our E-Business platform without registration where you have an access to the all products, their prices, stock availability, delivery time and technical information.
Description
Elmark offers a wide variety of switches and sockets. CITY series includes single and double switches and sockets, serial switches, dimmers for lighting, audio socket, TV socket, HDMI socket, USB socket, telephone socket, bell button, push light (stair) button, computer socket, key card power switch, curtain control switch, motion sensor switch, waterproof sockets.
The series is in two main colors white and champagne. They can be combined with a single, double, triple, quadruple, or quintuple panel in eight different colors.
Browse all products of this category here:
How best to use the City Series light switches and sockets
No property is complete without some sort of electrical plug sockets or any other light interface. Even though these products are mostly used for surface mounting, their presence is known and is considered a fine detail in interior design.
With the CITY series, you will receive a fair amount of design freedom, because we've created these products with your freedom of expression in mind. These products will, of course, provide the necessary functionality you are looking for, but will also act as a very good background for the style of your choice since they will go great with pretty much anything.
The best way for you to utilize these products is to think of the functionality you want to receive in any particular space, like the kitchen, bedroom, or hallways. Our selection provides you with the freedom to select different functioning interfaces, from LED light dimmer controls to curtain controls, regular light I/0 controls, and so on.
You can also create a hub, using the 4 or 5-way gang boxes which can be installed on a surface level. The CITY Series also comes in a variety of colors and visual textures, allowing the user to choose any particular style which can fit to their intuitive narrative.
How to plan functionality
One of the most important things when planning functionality, is to consider the lights and where you would be a light switch or an electrical plug. It is wise to have a light switch on the base level of the staircase and to have another at the top as well as on the intermediate floors to turn the staircase lighting on or off.
It is also wise to have the switches installed in locations that are most intuitive and can be easily found in the dark. While you do not plan on it, there are circumstances that might require that you find a switch in the dark. In this case, for your safety and convenience, you can install the lighting switches with a built-in LED indicator, which will always show you where the switch is located.
The same considerations go for other types of controllers, whether that would be curtains or LED dimmers – it's necessary for their location to be functional. You should also plan for the future – with the presence of easily installed smart systems, one might soon find themselves creating a plan for a smart control panel.
When it comes to power sockets, you should consider the location and wherein the property you will need them the most. Entertainment centers, kitchens, countertops, near sofas, and beds – those are the most commonly used places.