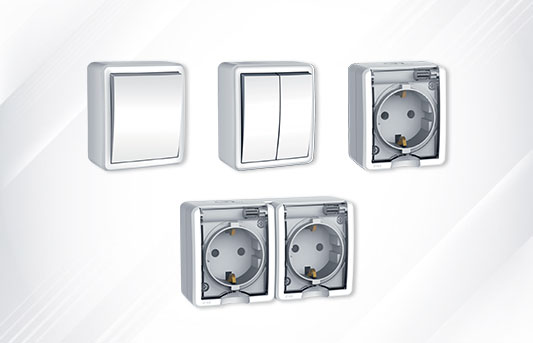 Switches and sockets which can be installed outdoor.
---
You could try our E-Business platform without registration where you have an access to the all products, their prices, stock availability, delivery time and technical information.
Description
For all wet premises or outdoor areas we offer switches and sockets that are moisture and water resistant. They come with high ingress protection of IP44 and IP65 and with a guarantee of quality and reliability from Elmark.
Browse all products of this category here:
When are waterproof switches and sockets a good idea
A waterproof socket is a mandatory addition to any wet or damp environment where you'd like to also have access to electricity for appliances or charging stations. Their most common application in a home is in a bathroom or laundry rooms, especially around sinks, in kitchens and around water sources like faucets.
Aside from the obvious initial protection, they also have surge protection, saving any electrical installations in its vicinity from surcharges. We provide two types of waterproof sockets:
The main difference between them is that the outdoor variety has a port for an electrical cable, which is protected with an additional rubberized nozzle.
The outdoor garden power sockets have an IP65 ingress protection, allowing you to comfortably use electrical power even during an active rain or snow storm without having to worry about a short circuit. The general classification of these sockets and switches is based on the area of usage and their ingress protection.
Visually, they are the same size, however, based on further inspection, it's easy to spot the see through spring loaded shutter. Its main value is more of a visual, design choice, which makes it very suitable for indoor use in bathrooms and wet household areas.
The way of connection to the power grid is from the inside, allowing for further protection of the socket and any users. The outdoor variety does not have the visual distinction but rather has a UV protective cover, which is specifically designed to withstand direct sunlight for a prolonged period of time.
What do we provide as indoor waterproof water switches and sockets
In terms of indoor switches as sockets, we provide 10AX and 16V variants, as well as the following:
1 Gang 1 Way Switch 10AX;
1 Gang 2 Way Switch 10AX;
1 Gang Intermediate Switch 10AX ;
2 Gang 1 Way Switch 10AX;
German Type Socket 16A;
German Type Socket – Double 16A.
For Outdoor Use, we have a specifically classified selection of high ingress protection switches, which allow for garden and long distance use. These varieties have additional water and moisture protection on the sockets themselves, giving you the added protection for appliances and any plug extension cords which are in use.
We provide:
1 Gang 1 Way Switch 10AX;
1 Gang 2 Way Switch 10AX;
1 Gang Intermediate Switch 10AX ;
1 Gang Push Button Switch 10AX;
German Type Socket 16A;
German Type Socket – Double 16A.
These provide a wider range of use, with added surge protection, built in right into the socket itself. The Spring-loaded shutter gives excellent sunlight and dust protection making them ideal for job-sight, garage or outdoor installation.
These sockets and switches are an Elmark staple and come highly sought after, since they provide the necessary utility and security where regular switches and sockets fail the most.