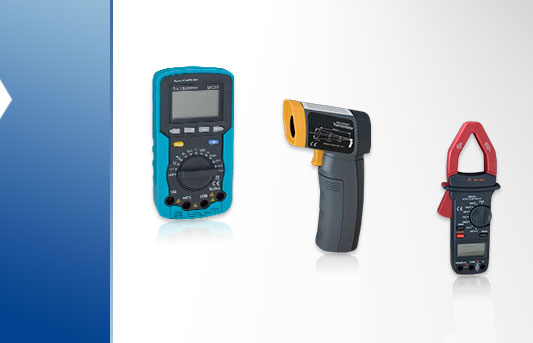 Accurate and reliable operation.
---
You could try our E-Business platform without registration where you have an access to the all products, their prices, stock availability, delivery time and technical information.
Description
If you need accuracy in the operation and measurement of different electric values you can always trust the Elmark multimeter tools. The Elmark digital multimeters come with LCD displays and are designed for measuring humidity, illumination, temperature, and all electric values (DC voltage; AC voltage; DC current; AC current; Resistance; Capacitors; Frequency).
There are available also digital clamp meters, infrared temperature meters, and digital detectors. For the needs of every electrician, we offer our professional repair kit. It contains a digital multimeter, digital clamp-on ammeter, phase meter, and infrared temperature meter finely packaged in a metal briefcase, sealed with special plastic foam and struts for each instrument.
Browse all products of this category and full technical information here:
What sort of functions do meter tools have
When working electrical systems, accuracy is more than vital for a number of reasons. One of the mains ways for an electrician to diagnose an entire system or any given segment of it is to use the proper tools – this is where a multimeter comes in.
Modern meter tools have more than one functionality that allows users to not only measure currents and the potential energy in a system but to also diagnose conduits that are not currently under load. The diagnostic option allows a user to see whether and where there is a break and to see if the system is secure or if it requires some sort of maintenance or a fix.
The most common type of meter tool is the well-known rectangular meter which comes with two-prong leads one for the positive and one for the negative. Using those, a user can determine quite a lot about a system that is both under load and one which has no current running through it.
There are also clamp variants that can be used in closed systems in order to diagnose the current which is running through them. These are most often used in systems that do not have any visible leads, making it a lot easier to diagnose a closed system.
It is also possible to measure the resistance, the amperage, the frequency, and other aspects of an electrical system, for single, double, or three-phase electrical systems. The clamp meters come standard with an isolation jacket, providing the necessary protection for a user who is using the tool with a system that is currently under load.
Temperature measurements
ElmarkHolding.eu also provides temperature measurement tools which utilize infrared waves to determine what sort of temperature a certain part of a conduit is. This is quite useful in finding breaks in the insulation of a conductor or a conduit because the insulation acts as both short circuit and temperature spike protection.
If an increase in temperature is found in a particular spot, this can show a break in the insulation, which is vital information for the safety of the system, the property and users involved in the manipulation of the system. The temperature measurement tool can also be used to determine the presence of moisture on walls as well as to measure body temperature if the settings have been selected correctly.