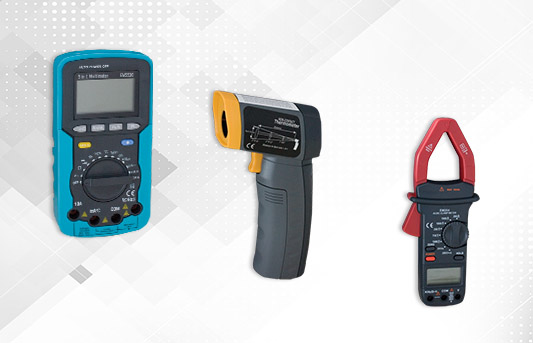 Accurate and reliable operation.
---
You could try our E-Business platform without registration where you have an access to the all products, their prices, stock availability, delivery time and technical information.
Description
If you need accuracy in operation and measurement of different electric values you can always trust the Elmark multimeter tools. The Elmark digital multimeters come with LDC displays and are designed for measuring of humidity, illumination, temperature and all electric values (DC voltage; AC voltage; DC current; AC current; Resistance; Capacitors; Frequency). There are available also digital clamp meters, infrared temperature meter and digital detector. For the needs of every electrician we offer our professional repair kit. It contains digital multimeter, digital clamp-on ammeter, phase meter and infrared temperature meter finely packaged in a metal briefcase, sealed with special plastic foam and struts for each instrument.
Browse all products of this category and full technical information here: