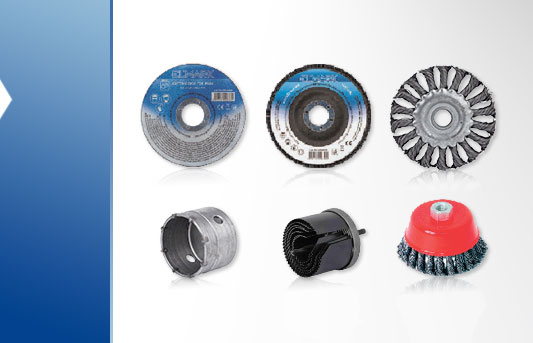 In addition to the power tools.
---
You could try our E-Business platform without registration where you have an access to the all products, their prices, stock availability, delivery time and technical information.
Description
For the good and precise work of each power tool are necessary tough and quality consumables and additional elements. You can equip your angle grinder with different types of cutting discs according to the material you are going to work up – metal, wood, stone, concrete.
There are twist knot wire cup brushes for metal available too. For drill power tools we offer various drill bits and they are in different sizes, designed for drilling wood, metal, and concrete.
Browse all products of this category and full technical information here:
Here you will find also a soldering gun and consumables, a hot melt glue gun, and a set of glue sticks for it. And for even greater convenience before, during, and after work, we offer you various protective equipment and plastic organizers, and toolboxes.
What sort of uses do these electrical tools have
Due to the wide range of requirements that home improvement and industry work have, we at ElmarkHolding.eu have provided our customers with a wide selection of vital tools and components. In order to make a job easier, the proper tools need to be employed, and in this category, we are more than certain you will find exactly what you need.
We have diamond-edged cutting disks that are using for masonry, tile cutting, water-free stone cutting, and overall masonry manipulation. The disks are 125mm sized and are used on an angle-grinder – it is recommended that water or some sort of lubrication is used to reduce the friction and the presence of fine dust particles.
If water or lubrication is not available, it is recommended that the tool be used in lower RPM to reduce the heat and to keep the disk as pristine as possible for as long as possible.
We also provide hole-saw bits which are suitable for drills which self-tightening jaws, with the saws coming in several sizes. This series of saws are suitable for the cutting of softer materials and metals, like aluminum and copper, though they are not so suitable for cutting sheet metal or black metals like iron or forged steel.
When cutting hard materials, it is recommended that a hole saw is used with water or oil-based machining lubrication to reduce the amount of heat and friction. The sharp teeth will be more than capable of biting into the material, however, a firm grip on the tool is necessary to avoid it slipping and turning on its own.
Aside from high-speed metal cutting disks, we also have low-speed stone cutting disks, wire brushes with shanks, and variations made for angle grinders. We also provide different drill bits for metal, masonry, and even machining – with U-shaped flouts specially made to remove material from the point of entry.
A tip for better user experience – when drilling masonry, it's recommended that you clear the hole every 2-3 seconds in order to avoid the formation of an air pocket underneath the drill bit. This air pocket, if not cleared, can create a gust of air which can and will disperse the removed material in the space.
All grinding disks are rated for high speeds, however, all users should ensure that they are mounted in the properly orientation and that the set bolt is tightened properly.