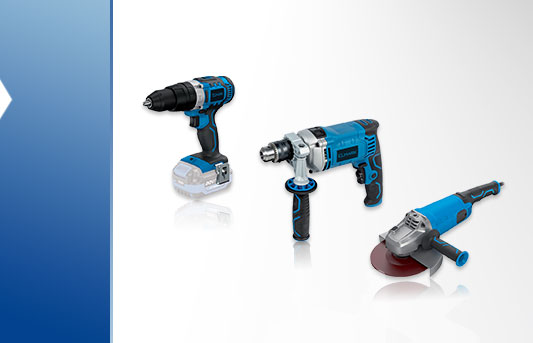 ELMARK series professional electrical tools.
---
You could try our E-Business platform without registration where you have an access to the all products, their prices, stock availability, delivery time and technical information.
Description
Whether you are a professional builder, contractor, construction worker or a person who loves to do repairs at home, the power tools from our line will always help you do your job quickly, professionally and safely.
Browse all products of this category and full technical information here:
The power hand tools that we offer are angle grinders, drills and rotary hammers, heat gun, jig saw, multi tool. They provide high comfort and control during operation.
The power tools have a compact handle for easy operation and auxiliary convenient for operation at any angle.
For even greater convenience and especially for places where there is no possibility to use a cable, we offer you a series of cordless power tools.
They work with high-quality Li-ion 20V battery with a capacity of 2Ah or 4Ah. The batteries are waterproof with smart electronics which protect from abuse.
Optimum tool performance. Temperature control frame: Extend run-time and life by minimizing heat. Operates below -18°C/ 0°F. Fully exposed cell carrier and rubber overmold which prevents pack failure from vibration or drops.
What sort of tools can you find here
We have two types of tools, corded and cordless or battery powered which run on a 12V and 20V battery capacity with a supplied fast charger. The corded tools tend to be far more powerful since their electronics can draw direct AC power from the circuit, whereas the battery powered ones need to conserve, but have the added convenience of no cables.
Corded tools
As we mentioned above, corded tools tend to be far more powerful and efficient than cordless tools, and to that you can work on far harder tasks, such as the case with a professional rotary hammer. An additional added benefit of corded tools is that you don't have to worry about a charger, getting the batteries wet or of overheating.
Drills
We provide a wide range of drills, from low powered, non-impact variations like the EL-D10 with a 500W charge to the EL-RH13 with multiple speeds and functionality and a 800W power rating. By far the most powerful and fast drill we have is the EL-D12 with a max speed and max power gear reduction for the delivery of over 1050W of power.
Angle Grinders
Angle grinders at ElmarkHolding.eu come in several sizes, from the most common 125mm wheel variants to the large 230mm wheel variants like the El-AC03 which provides more than 2400W power and 6500 rpm – the middle ground are the 750W EL-AG04 variations with 11 000 rpm capabilities for fast and clean cutting.
Jigsaw
The Elmark jigsaw is a fantastic corded variant with 710W power and no-load speed of 1500 to 3100(r/min) and 23mm stroke distance.
Multi Tool
Our multi tool is a professional tool which, as the name correctly conveys, is a tool which can be used for multiple things – from cutting wood, plasterboard, metal, steel, pipes, PVC and a whole lot more. The EL-MT40 is a fantastic tool to have in your arsenal regardless of what you use it for.
Heat Guns
Heat guns are an important tool of equipment for any construction worker and this is why we have two main varieties of corded tools – the EL-HF30 which is a 1800W powered tool with modes for 50/400 and 550 degrees and the EL-HG31 which is a 2000W power variant with an option for 350 degrees Celsius. Both models have protection against over-heat.
Battery powered tools
We have two categories of battery powered tools – drills and an angle grinder – with the addition of a fast battery charger. The drills are with 12V and a 20V battery capacity, and the angle grinder is with a 20V battery capacity.