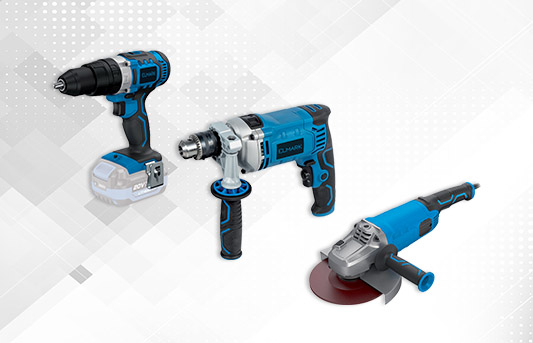 ELMARK series professional electrical tools.
---
You could try our E-Business platform without registration where you have an access to the all products, their prices, stock availability, delivery time and technical information.
Description
Whether you are a professional builder, instalator, construction worker or a person who loves to do repairs at home, the power tools from our line will always help you do your job quickly, professionally and safely.
The power tools that we offer are angle grinders, drills and rotary hammers, heat gun, jig saw, multi tool. They provide high comfort and control during operation. The power tools have a compact handle for easy operation and auxiliary convenient for operation at any angle.
For even greater convenience and especially for places where there is no possibility to use a cable, we offer you a series of cordless power tools. They work with high-quality Li-ion 20V battery with a capacity of 2Ah or 4Ah. The batteries are waterproof with smart electronics which protect from abuse. Optimum tool performance. Temperature control frame: Extend run-time and life by minimizing heat. Operates below -18°C/ 0°F. Fully exposed cell carrier and rubber overmold which prevents pack failure from vibration or drops.
Browse all products of this category and full technical information here: