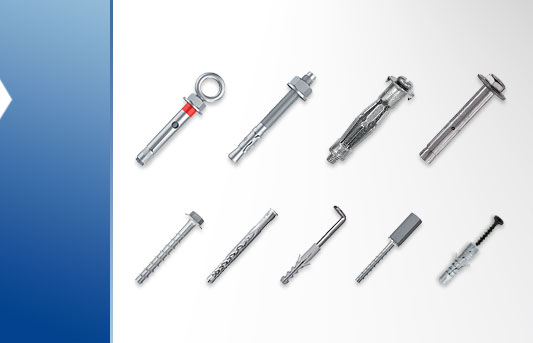 Anywhere and on any surface.
---
You could try our E-Business platform without registration where you have an access to the all products, their prices, stock availability, delivery time and technical information.
Description
You fix something here, you fix something there and there is always a need for various bolts, screws and other fixing elements. Now you can find everything you need for quick repairs in your home as well as for the needs of professional construction and equipment.
In our catalogue we present huge range of fixings and fasteners as dowels, bolts and nuts, screws, anchors. They are intended for different kind of surfaces like wood, metal, concrete, plasterboard.
Browse all products of this category and full technical information here:
Why are Universal Fixing Elements so Important
The quality of any sort of fixing element is important because the world is built on nuts, bolts, washers, anchors, screws, self tightening nuts and so much more. In order for us to be able to install anything on a hanging surface, we must have the appropriate fixing element which can withstand the forces which are acting upon them.
There are different grades of fixing elements which are determined on the materials used to create them, as well as the loads which they can withstand. There are industrial grade elements which are used for the mounting and installation of heavy objects like elevators components, façade fixtures, street sights, build boards and well as heavy projectors and hanging lighting.
They can be used in bilateral applications, meaning that they can be vertically or horizontally utilized, without the user worrying about the fixing element dropping the load which has been placed onto it.
There are also other types of fixing element which are meant for lighter loads and load bearing on plasterboard or wood, which are materials lower on the strength chart.
What Sort of Universal Fixing Elements do we Provide
We basically provide everything from bolts from M6 all the way up to M12, washers and their corresponding nuts, as well as elements for plasterboard, wood, concrete and any other sound structure which could take a load. It is important to use the fixing elements for their intended purpose, because that's how you can guarantee your safety and that of others.
A great example for a fixing element which is not meant for cross-structure utility, are the Self-drilling screws with hexagon heads and EPDM washers. While these are threaded and come with a rubberized washer, they are not meant to be used on wood surfaces because the self-drilling head will separate the grain of the wood and not allow the threading to get a good grip on the fibers.
This is why we have wood screws with a PZ2 head and lengths and thread sizes ranging from 3,5mm thread size to a 6.0mm thread size. The 3.5mm wood screws range in lengths, from 16mm all the way up to 40mm, the 4,0mm width screws' lengths range from 20 to 60mm, the 4,5mm sized ones are from 25 to 60mm, the 5,0mm sized ones are from 30 to 80mm and the 6.0mm ones range from 50 to 80mm.
We also have the FISHER DUOPOWER wall plugs which are rated for concrete mounting and installation and can receive fixing elements ranging from 5×25 all the way to 14×70. This means that the drill bit needs to be at least 1mm wider than the wall plug so it has space to expand.
There is also a lot more here at ElmarkHolding.eu, a lot more that can be of help to you, all coming from the best and most widely respected manufacturers in the world.