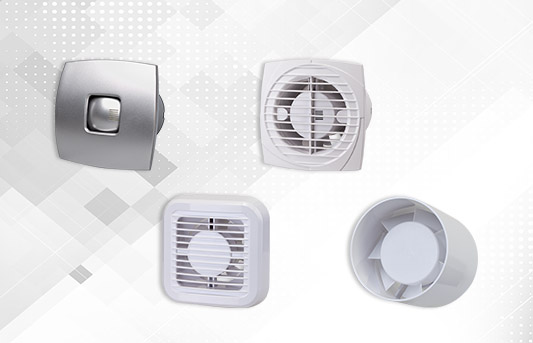 For better ventilation in your home.
---
You could try our E-Business platform without registration where you have an access to the all products, their prices, stock availability, delivery time and technical information.
Description
Domestic fans and accessories for them are suitable for kitchens, bathrooms, utility rooms. Fans are available with a valve or with a valve and timer.
They are made of high-quality materials and their motors are equipped with thermal cut-out protection. They come with a diameter of 100/110/120 mm and a power of 15/20 W.
The accessories to them are connecting rings, reducers, air ducts. They are very easy for mounting.
Browse all products of this category and full technical information here:
What are the uses of domestic fans
One of the most common uses of these types of home fans is in damp spaces where the constant or near-constant movement of air masses is necessary. These places can be often damp or be without natural ventilation such as service rooms or cupboards, walk-in wardrobes, or other places where constant fresh airflow is required.
The movement of air is often connected with mold and mildew growth prevention, which makes the ELMARK ALS SILENT Series fan the best choice for a laundry room, bathroom, kitchen, or any other location with a near-constant presence of moisture particulates in the air.
This particular product has specific protections like a backflow V-valve which prevents air from returning the wrong way. It has additional thermal cut-out protection and overall comes in several sizes, from 100mm to 120mm, making it easy for the product to fit in PVC or flexible air ducts.
You can also use the ELMARK AF Series which has more than 5 variations ranging from 15 to 20W draw with more than 2500 to 2400 RPM. The capacity of the fan is quite high, especially considering its small size and the overall draw of the motor, which is 220V and 240V.
In general, these fans are created to be installed recessed into the wall, however, some products come with specific decorations, which allow the user to install them proud of the surface. This is entirely up to the interior design choices which have been made – in case you want to have it flush with the surface, you can install it deeper.
All fans require a constant source of electrical energy, like the VF-VH120 which comes with a valve and hydro timer. In case the power goes out, the fan will slowly lower its RPM until it reaches a resting point.
The key for switching the fan on or off can be located next to the light switch, or it can be combined in a console, allowing you to simultaneously switch on the lights and the fan at the same time. In case you need the specific functionality and freedom of switching it on separately, simply install a power switch with a small relay to achieve the desired result.
It is also mandatory for the fan to be grounded to the same circuit to avoid short circuits due to moisture accumulation into the motor. The ingress protection of all fans we provide is IPX4, meaning it has one of the highest protection in the entire industry.
If you have any sort of difficulty picking out a product, we will be more than happy to assist you with the choice.