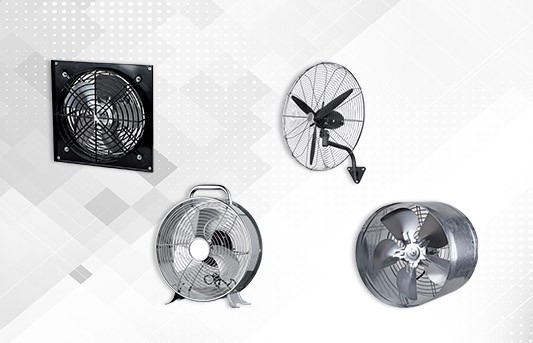 Industrial fans for better ventilation in industrial areas.
---
You could try our E-Business platform without registration where you have an access to the all products, their prices, stock availability, delivery time and technical information.
Description
Air circulation is vital in many industries, as it is with agriculture, manufacturing, animal husbandry, factories and so on. The difference between regular household fans and industrial-grade fans is their capacity, longevity and overall productivity potential.
Browse all products of this category and full technical information here:
General overview of our products
The Industrial fans are suitable for a continuous or periodical ventilation of medium to large agricultural, industrial buildings, parking lots, warehouses and other places where great volumes of air need to be ventilated. These fans are suited only for the ventilation of non-explosive gases, not containing glue substances and other flammable evaporations.
Depending on the model, the fans can be mounted on:
Windows;
Walls;
Roofs;
Ceilings;
The fans have a diameter of 200/250/300 mm and require power of up 36W, 60W or 110W. They are with a maximum air capacity form 410, 800 to 1400 m 3/h.
What to look for when choosing an industrial fan
Before picking a specific item from our catalogue, it's good to give yourself time to consider the application of the fan as well as what uses you are looking to get out of it. Bellow we've broken down the 4 most important aspects of an industrial fan and what you should consider before purchasing one.
Mounting position of industrial fans
The mounting position of a fan will determine how efficient it will be. For that you must consider the height and dimensions of the space.
We have different varieties of fan mounting options from built-in wall fans for domestic and industrial ventilation, to desk fans, wall bracket mounted industrial fans, to ceiling mounted high powered fans, all designed to move air but in a different way.
Air circulation capacity
The capacity of a fan is determined by the power of its motor, the size and number of its blades and the settings it has. A desk fan has a far smaller air moving capacity than a high powered standalone industrial fan which is often used on movie sets to simulate the air movement of a hazardous storm.
You should take into consideration the capacity of a fan, and in order to determine it properly, it's mandatory to make measurements of the cubic meters of a room. This also takes us to our next aspect of choosing an industrial fan – what it does with the air – does it move it around the room, or does it vent it away from the room.
Air movement – in-room fans or built-in wall mounted fans
A good example of two very different fan types is the Standing High Powered Industrial fan which comes with a standalone floor stand. It requires anywhere from 220 to 240volts, has a 180W power capacity of its electrical motor and spins at 1000rpm – giving it the power to move more than 8800 cubic meters of air in 1 hour.
On the other hand there's the ELMARK AC Series which has an RPM rate of 2500 and air moving capacity of 98 cubic meters per second. The difference in these numbers is quite substantial, but the main difference is what they do with the air they move – the wall mounted AC Series ELMARK fan provides fresh air from a filtrated system, whereas the standalone industrial fan simply moves the same air within a room.
Consider the warranty
ElmarkHolding.eu provides full 3 year warranty to every industrial and home fan, regardless of its class or capacity, in adition, the industrial grade fans, have access to extended warranty which provides you far more security.