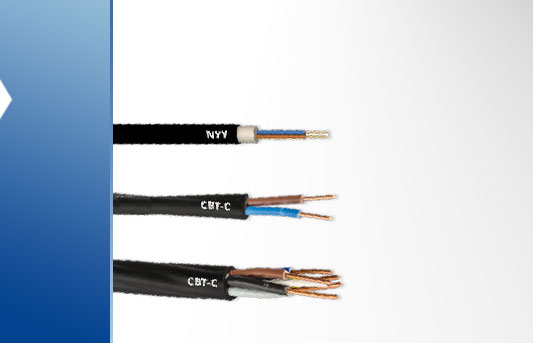 Large selection of power cables.
---
You could try our E-Business platform without registration where you have an access to the all products, their prices, stock availability, delivery time and technical information.
Description
Power low voltage cables in our portfolio are CBT-C and NYY. NYY is a power cable for construction of underground distribution grids and installations of industrial and public projects, where mechanical damages are not to be expected. Suitable for transmission and distribution of electric power at nominal voltage u0/u 0,6/1 kV.
CBT-C is a cable with solid or stranded CU wires, resistant to the sun's radiance and atmospheric influences. It is suitable for the spread and transfer of electrical energy if it is installed steady outside or in indoor spaces – cable trunking, electrical cable conduit, cable trays, directly into tunnels, cable support, earthworks, pits, cable accessories etc.
Browse all products of this category and full technical information here:
What are the different cables used for
NYY cables are used for underground works and for the installation of power cable systems which which are placed in special cable routes underground. They come in 4 different variants, from 2 cable cores to 5 cable cores, each cable being made from solid or stranded Cu wires which are intertwined and bound by 1 single layer of insulation.
All strands are then combined into a single strand with double insulation, most often used for the main power source of outside works, parks, gardens as so on. These are safely used when there is no mechanical manipulation or damage expected – this is why they are buried in pits, where the elemental damage they can experience is being nulled out by the specialized protection and insulation.
CBT-C power cables come in two varieties – single strand or multi-strand CU conduits which are meant for outside work. These cables have a hard, semi-flexible shell that allows them to be used outside, unprotected, with exposure to air, sunlight, rain, and frost.
They can also be used for indoor installations, allowing for the spreading or transfer of electrical energy over long distances. These are not communication cables, however, they can transfer limited information from dimmers to LED lights.
They come in 4 variations, from 2 to 5 strand cables, with double protection for the individual strands and additional protection for the joined strand. The overall bundle has a double layer of insulation, making it one of the best choices for low voltage electric cable power transfer.
These cables can be installed underground, however, they will require some sort of extra protection, since they are not rated for the type of moisture most often found underground. While they are frost-resistant, it is recommended that the cables be buried beneath the frost-line of your particular geographic location.
There are available cable trunking, channels, and rails for all of these cables variants, as well as flexible trunking options which are quite suitable for indoor installations.
Maintenance of low voltage cables
When it comes to maintenance, there is little to no need for it, if the cables have been used as per their classification. It is possible, over time, for the insulation to become brittle requiring that regular fidelity checks are carried out 5 years apart.
These checks don't take that much time since the products have several layers of insulation and they are rated for mechanical damage. Unless a particularly harsh event has occurred, the cables will hold and provide constant electrical energy to and from the desired locations.