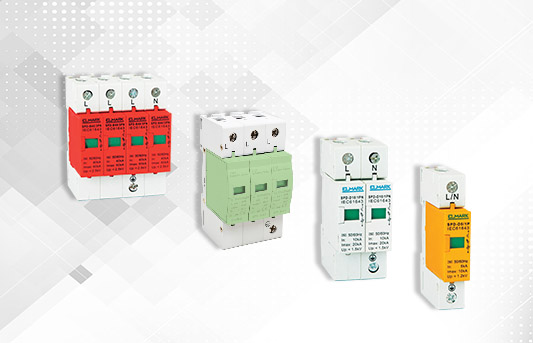 Secure protection in case of high momentary overloading.
---
You could try our E-Business platform without registration where you have an access to the all products, their prices, stock availability, delivery time and technical information.
Description
Surge arresters are protectors against specific types of surges, such as a power grid surge for instance. They protect of heavy-loaded electrical circuits from overload. Used to protect not only particular consumers/circuits, but also the whole panel. They are remarkable with high reliability. Automatic switching off at exit failure and recovery after eliminating the danger.
They can be mounted on DIN-rail, vertical or in the distributions box on the front or right before the breaker. Rated operating voltage Uc: 275/440V;50Hz.
The surge arrester selection is made according to the overload risk level or atmosphere activity, named B, C or D (from high to low risk level). The company offers model for these three levels of risk: Model SPD – Bxxxx – for systems with exceptionally high risk level. Mounted mainly in the beginning of the installation or in the main panel. Model SPD – Cxxxx – for systems with high or average risk level. Mounted in the beginning of the installation or before the breaker. Model SPD – Dxxxx – for systems with low risk level. Suitable for secondary protection of consumers in combination with SPD – Bxxxx/SPD – Cxxxx.
Browse all products of this category and full technical information here: