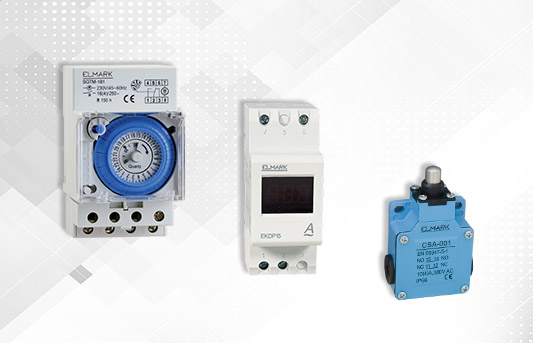 High accuracy and reliability.
---
You could try our E-Business platform without registration where you have an access to the all products, their prices, stock availability, delivery time and technical information.
Description
Elmark offers timers, relays and measuring devices with high accuracy and reliability. This product category includes programmable timers designed for DIN rail mounting with the ability to memorize different programs implementing various ON/OFF cycles; time relay "star-triangle"; pulse relay; electronic counters; temperature meters; current measuring transformers; displaying measuring devices (voltmeters, ampermetes, frequency meters, cimbinated). There are available digital and analogue meters.
Here you can find also all-purpose limit switches used in automatic systems as a control element. They are used for setting of gearing limits. They are mounted on transport lines, conveyors and other linear progressive motion machines. They feature a vibration-resistant metal shell.
Browse all products of this category and full technical information here: