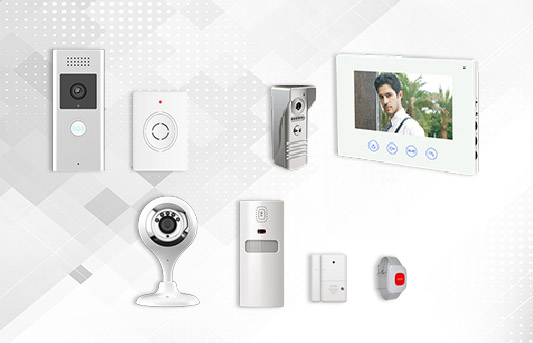 Ensure further security.
---
You could try our E-Business platform without registration where you have an access to the all products, their prices, stock availability, delivery time and technical information.
Description
The security is extremely important, and it is the main aspect if you want to ensure safety. For better security reasons and desired high protection for home or office, we included items such as intercoms and alarm systems.
Intercoms are whole systems which include voice communication and can unlock the door. Some of them include video, audio and intercom doorbell as well. The main functions of the intercoms are:
Unlocking the door – when someone presses the button on the outdoor unit, the smartphone and the indoor unit will ring together. The information from your local remote video intercom will be send to your smartphone APP and  you can also unlock the door remotely by APP, or unlock by the door monitor unit. The door needs extra power supply.
Recording – The user can take photos or record video.
On the other hand infrared alarm systems are devices which turn on when someone is detected by the infrared sensor, it will send alarm signal to the smartphone via APP. Some of the devices have a magnetic sensor – when the door or window installed with a magnetic sensor is opened, the magnetic sensor will send signal to IR sensor and alarm will be triggered.
Browse all products of this category and full technical information here: