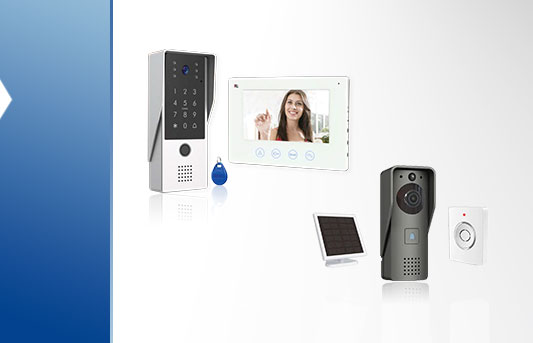 Ensure further security.
---
You could try our E-Business platform without registration where you have an access to the all products, their prices, stock availability, delivery time and technical information.
Description
The security of a home is extremely important, and it is the main aspect if you want to ensure the safety of its inhabitants. For better security reasons and desired high protection for homes or offices, we provide items such as intercoms and alarm systems.
Browse all products of this category and full technical information here:
Intercoms are whole systems which include voice communication and a striker button which enable you to unlock a door. Some of our choices include video, audio and intercom doorbells as well. The main functions of the intercoms are:
Unlocking the door – when someone presses the button on the outdoor unit;
Smartphone and indoor unit simultaneous notification;
The information from your local remote video intercom will be sent to your Smartphone App and you can also unlock the door remotely with an App, or unlock using the door monitor unit;
The door requires an extra power supply;
Recording – the user can take photos or record video.
We also provide infrared alarm systems and devices which turn on when movement is detected by the infrared sensor, it will send an alarm signal to the Smartphone via an App.
Some of the devices have a magnetic sensor – when a door or a window with magnetic sensor is opened, the magnetic sensor will send signal to IR sensor and the alarm will be triggered.
What sort of smart intercom and alarm systems do we provide
We provide a wide variety of home security systems, smart doorbell and intercom solutions, with two way communication, remote door control and long distance notification via a smart home device. In fact, we provide all kinds of burglar alarms, from full on alarm kits with magnetic sensors on doors and windows, to simplistic, yet efficient Wi-Fi enabled smart cameras.
WiFi Smart Cameras come in two main varieties – indoor and dedicated outdoor cameras with additional hanging mounting positions which helps you choose the exact location you'd like to minitor.
The best solution for your night vision and observation needs is the EL-2019Q model which comes with enough internal storage space and the ability to record in day and night vision. Aside from internal it has cloud-based storage which allows users to save data on their devices and download and inspect footage from a specific date.
Another good home security system is the Wi-Fi IP Camera with Alarm System KIT or the EL-WFAK1. This kit comes with a set of magnetic sensors, infrared sensors and visual sensors which pick up any movement. You can set an effective area of coverage for the most important spots on a property, with instant notification available 24/7.
There is also a panic button, which when pressed, contacts local authorities or it can be set to contact a specific person.
The far more simple yet efficient 7-inch Wi-Fi Smart Video Intercom and Doorbell system allows you to choose however many screens can receive the video and audio footage from the wireless intercom system. This category has a variety of intercoms which vary mainly on screen count and some added functionality.
If you really want to go minimalist, you can get the door phone kit which has a two way communication kit and a button for unlocking the door remotely. And then there's also the Smart Doorbell with two door chimes which can be strategically positioned around a property for full sound coverage.