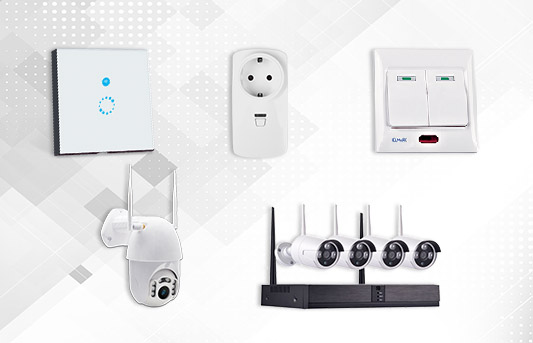 Smart home control from everywhere.
---
You could try our E-Business platform without registration where you have an access to the all products, their prices, stock availability, delivery time and technical information.
Description
Smart Home concept offers smart solutions that bring maximum comfort and convenience to your everyday life. That's why in the recent years Smart home concept become commonly used in homes and business enterprises. It makes life more easier, save time and efforts.
"SMART home indoor" products are used for lighting control (lighting color control, control of several light sources); convert WiFi signal to RF signal. In this category you can find products like: RF Touch remote, Smart wifi Dimmer, LED RGB remote control, Wifi Relay, LED dimming receiver, Remote control switch.
The products from "SMART home outdoor" category are used to control, turn on and turn off devices from everywhere, control power consumption, temperature and humidity. The products are: Smart WiFi socket, Temperature sensor, Smart WiFi switch for DIN rail, Smart WiFi controller for temperature and humidity.
The SMART cameras that we offer are used to capture images and video. The control is done from anywhere with IOS or Android mobile application.
The DVR device is a digital video recorder and work with analog cameras.
Browse all products of this category and full technical information here: