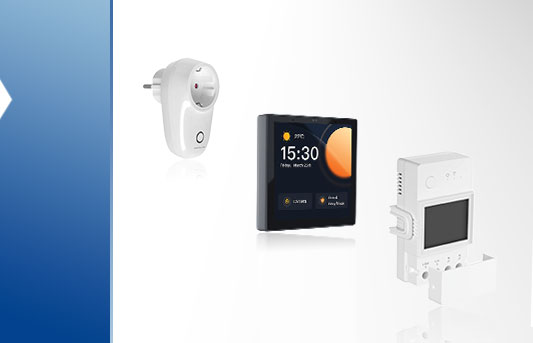 Smart home control from everywhere.
---
You could try our E-Business platform without registration where you have an access to the all products, their prices, stock availability, delivery time and technical information.
Description
Smart Home concept offers smart solutions that bring maximum comfort and convenience to your everyday life. That's why in recent years Smart home concept become commonly used in homes and business enterprises.
It makes life easier, saving time and effort.
Browse all products of this category and full technical information here:
"SMART home indoor" products are used for lighting control (lighting color control, control of several light sources); convert WiFi signal to RF signal.
In this category you can find products like: RF Touch remote, Smart wifi Dimmer, LED RGB remote control, Wifi Relay, LED dimming receiver, Remote control switch.
The products from "SMART home outdoor" category are used to control, turn on and turn off devices from everywhere, control power consumption, temperature and humidity. The products are: Smart WiFi socket, Temperature sensor, Smart WiFi switch for DIN rail, Smart WiFi controller for temperature and humidity.
The SMART cameras that we offer are used to capture images and video. The control is done from anywhere with IOS or Android mobile application.
The DVR device is a digital video recorder and work with analog cameras.
What sort of smart home solutions can you find at ElmarkHolding.eu
The comfort of modern living has successfully transited into the home and office environment, allowing customers a lot more flexibility and convenience with everyday tasks. One of the biggest and most useful conveniences is lights control, but with new technologies you are not only empowered to turn them on and off, but also to choose their brightness and even their color.
A modern smart home is something out of the future, but it's in the present, providing flexibility with how you create the ambiance and mood in a room. This means that, with the use of a well placed device in your home, you can freely control each aspect of the lighting of several rooms, only by using your smart phone or a touch function on a remote.
These types of light controls are quite adaptive to your needs and allow you to turn Wi-fi signals into radio frequencies (RF) like the one channel four zones remote with more than a 30 meter range for control. This particular device is placed on a wall or a surface with double sided adhesive with the on-off function and 4 channels of control – this means with a single touch you can control 4 different devices.
There is also a model for four colour control, giving you the capability of controlling not only the brightness, but also the colour of the lighting in a given room. Of course, this is applicable with the appropriate LED light bulbs which are RGB enabled.
Another brilliant addition is the RF AV TRIAC ROTARY Dimmer which has a tactile rotary dimmer knob which has a push and long push function which communicates with the appropriate lighting. All of this is done from a remote distance, meaning you no longer have to walk to the light switch to operate the device in your home.
And for full 21st century light touch, you have the Wifi Relay Controller which can work with up to 16 zones of lighting and be operated with a smart phone – either an Android or an Iphone. Choose the future today, choose ElmarkHolding.eu.