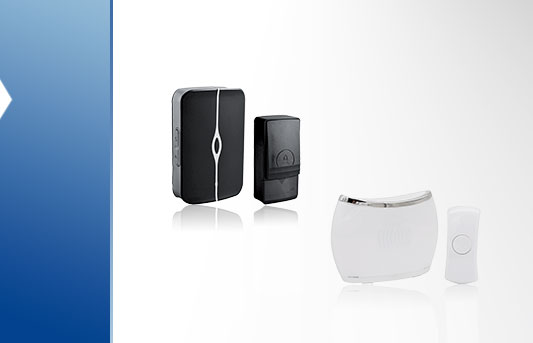 Wireless and infrared doorbells for home or business aims.
---
You could try our E-Business platform without registration where you have an access to the all products, their prices, stock availability, delivery time and technical information.
Description
Fully automated doorbells for more convenience
Living in the 21st century has many perks, one of which is the increase in ease of use of many smart appliances, wireless doorbells. The ElmarkHolding.eu smart doorbell systems provide both more security and far more convenience, notifying you about visitors, guests or customers well in advance.
Browse all products of this category and full technical information here:
What sort of doorbells and intercom systems do we provide
Here you can find a wide variety of security systems and doorbell systems, from varieties equipped with night vision with an effective range of up to 3m, to even LED flashlight equipped models with a built-in battery system.
Why are wireless doorbell systems so convenient
Older doorbells rely on a combination of electric and mechanical notification, which have their nostalgic charm, though they are far less convenient than wireless doorbells. Older doorbells require a direct link to some sort of a power source, usually linked to the power grid which limits their receiver range and mounting options.
With our wireless doorbell solutions you get to choose exactly where to place both doorbell and receiver(s) and depending on the model, you can also pick the melody, with most products of up to 30 different varieties.
In terms of selection, you can choose from one doorbell and receiver or two receiver combos, with up to 80 meters of coverage. We also provide varieties like the wireless induction and motion sensor doorbells (5021) and (5022) which automatically notify you of an approaching visitor – they have an active field of view which makes them extremely convenient.
You can also choose a passive doorbell, which are simplest varieties which are a modern recreation of the old-time doorbells, with the added convenience of wireless technology and batteries. The 5020 model is a great example of simplicity done right – it's a push to notify variant, which immediately sends a signal to a singular receiver placed as far as 80 meters away from the bell itself.
Wireless doorbells, digital doorbells and infrared induction doorbells are modern solution which is often used in these days in many households and offices. Positive aspect of having smart doorbells is their easy mounting. They are preferred as modern accent because of the design and the choice of colors.
Some of the doorbells are with batteries, and the others are with a device for plug-in.
Wireless and digital doorbells in our portfolio are with LED flash light. The infrared induction doorbells are devices that detect movement and send a signal to the bell. When the signal is received, the bell is activated.
What sets Elmark apart from other companies
We've set a goal to provide an innovative approach to home and business security. Our wireless smart products provide the convenience each household or business deserves, giving you a flexible choice of where to mount your new smart doorbell as well as the receivers – get a notification regardless of where in your property you are.
Our selection of specialized wireless doorbells comes in a variety of designs, with both inconspicuous and more avant-garde options being available. We pride ourselves in the ease of use, installation and the level of security a simple video-enabled doorbell can provide to all home-owners.
Compared to other options, you get far more with a single purchase than you would with any other company.
This line of products is easy to integrate into your home environment, providing you with 24/7 hour security, with little to no maintenance and a full warranty for any and all choices you make here.