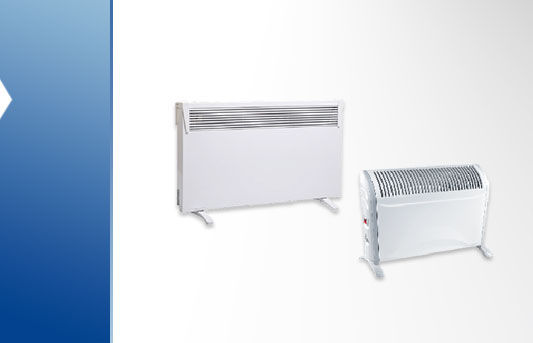 Description
The proper heating of an environment, regardless if it's a household or an office space, requires the right selection of heating appliances. The Elmark team is providing you with a wide variety of energy efficient electric heater variations which work on an oil, coil or quartz basis and can be used safely around children and pets.
Browse all products of this category and full technical information here:
How to pick a portable heater for your home or office
What you should take into consideration is the presence of a power supply, pets, children and the square meters of the space that you need to heat. The most vital rooms in a house, which require near constant heating, are the bathrooms and this is where you need something like the CN 03200MISF Floor-standing electric panel convector.
It has an IP24 protection variant which can be floor standing or mounted on a convenient for you location on the wall in your bathroom. This line has the capacity to properly heat an area of up to 32 square meters and requires around 3000W of power to operate properly.
Heating a child's room
While adults can be aware about hot things, children are yet unaware that hot things should not be touched. That's why you need to pick a special type of heating element like an oil based radiator, the CB2009EO1R model has fantastic characteristics, allowing for the proper heating of a 24 square meter space.
Its form is fully insulated from the heating element, keeping it away from curious hands or a pet's fur, making it one of the safest heating elements. There is also a 3000W variant which is quite a bit more capable at heating rooms, making it easy to create a cozy environment for a 32 square meters space.
What to take into consideration when picking out a heater
While we do provide a good selection of heating appliances like an portable heater, electric panel heaters, electric radiator heaters and low energy electric heaters, it's important to pick the right one for your space. Here is what you should consider when making your choice:
The height of the room
While all heating appliances get a rating based on their range in square meters, a room is a three dimensional space which has height as well. If the ceiling of a particular room is high, you'd be best to pick a floor standing fan heater like the HE 830 V PTC which circulates cold air and heats it up.
The type of floor
The type of floor coverings, whether that'd be a carpeted floor or one made out of solid wood, is quite important for the safety of your property. Floor standing heaters like the HL 213 V is quite a powerful, yet small heating appliance, which might gather quite a lot of carpet hairs in its fans.
In rooms with carpets, we recommend getting a wall mounted heater or using an oil-filled radiator unit. Oil radiators will also be quite good for bathrooms or kitchens since it retains quite a lot of the heat as it goes through a variation of heating and cooling cycles.
This cycle means that any tiled walls will be able to transmit and retain some of the heat, giving it away throughout the day. For bathrooms you can also get a Quartz heater like the QH 09 120 rated at 1200W consumption and for 8 to 10 square meter spaces.