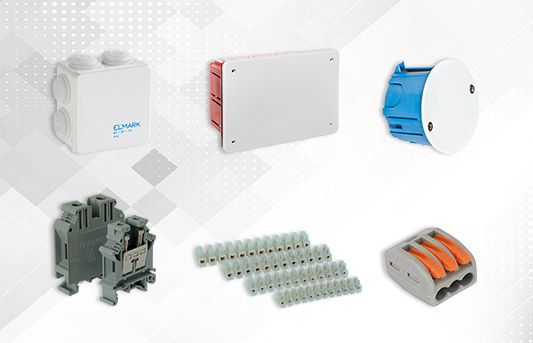 Components for facilitating installation.
---
You could try our E-Business platform without registration where you have an access to the all products, their prices, stock availability, delivery time and technical information.
Description
For quick and easy cables connecting Elmark offers console boxes and junction boxes. They could be single, double and triple and are intended for in-build mounting in plasterboard or for recessed mounting in bricks and concrete. They are round or square type in various sizes. For outdoor installation are suitable plastic junction boxes with different shapes and dimensions with IP44/IP67. They are designed for cable lines extension or junction at cable installations laying. And are made of ABS material with openings for input – output conductors, with rubber gasket to provide the corresponding IP code. Resistant to chemical, thermal and UV rays. Direct wall mounting with screws.
There are available various block terminals in the catalogue. For more easy and better work efficiency in the dark we offer hand lights and work lamps. They are onе of the most convenient lamps. They are easy to carry, do not take a lot of space and are used as flashlights to illuminate the space during work. Our product portfolio includes – flashlights, headlights, portable floodlights, plastic mini key lightс and others. Available with batteries type 3xAAA or with rechargeable batteries, also with USB charging cable.
Browse all products of this category and full technical information here: