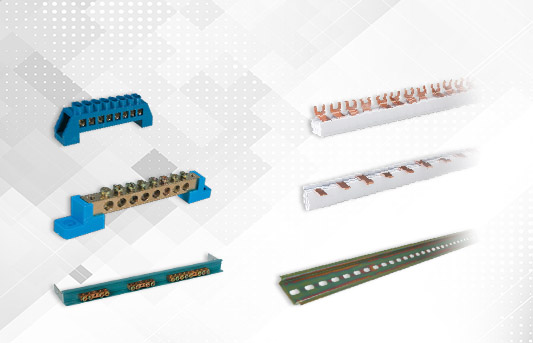 High power safety.
---
You could try our E-Business platform without registration where you have an access to the all products, their prices, stock availability, delivery time and technical information.
Description
In this category in our portfolio are included mounting (DIN) rails, Insulating mounting terminal and busbars.
The main function of Mounting (DIN) rails are: serve for mounting breakers, residual current devices, contactors and other elements, provide a firm fixation of the elements. Their length is up to 1m, and they are connecting with bolts or other fixing elements to the mounting surface.
The main functions of Insulating mounting terminals are: provide a firm joining of rigid or flexible conductors up to 35mm2 to power supply busbar, provide a firm joining of the power supply conductor to the breaker, provide enough contact surface of the conductor. They are connected to the joining terminal of the breaker.
Busbars distribute electricity with ease and flexibility than some other more permanent forms of installation and distribution. Numbers of their poles are 18,28, 54.
Browse all products of this category and full technical information here: