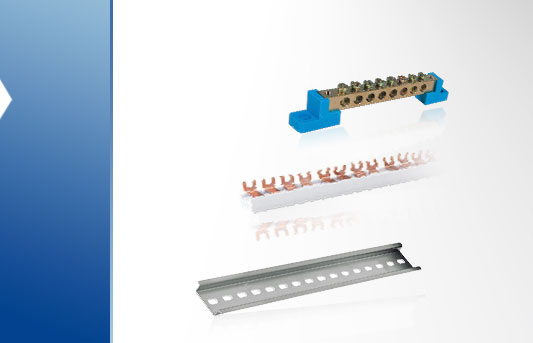 High power safety.
---
You could try our E-Business platform without registration where you have an access to the all products, their prices, stock availability, delivery time and technical information.
Description
In this category in our portfolio are included mounting (DIN) rails, Insulating mounting terminal and busbars.
The main function of Mounting (DIN) rails are: serve for mounting breakers, residual current devices, contactors and other elements, provide a firm fixation of the elements.
Their length is up to 1m, and they are connecting with bolts or other fixing elements to the mounting surface.
Browse all products of this category and full technical information here:
The main functions of Insulating mounting terminals are: provide a firm joining of rigid or flexible conductors up to 35mm2 to power supply busbar, provide a firm joining of the power supply conductor to the breaker, provide enough contact surface of the conductor.
They are connected to the joining terminal of the breaker.
Busbars distribute electricity with ease and flexibility than some other more permanent forms of installation and distribution. Numbers of their poles are 18,28, 54.
Most common uses of mounting rails and busbars
Any electrical system which is under load and is expected to perform well with several devices feeding from it, would require some sort of connectors and insulation. In this category we provide a good selection of zero terminals terminal blocks and zero rails used in the construction and securing of electrical systems.
The most common, and intended, use for mounting (DIN) rails is to provide the ability for electricians to mount different devices. They have fixture holes which are factory drilled allowing for the ease of installation, reducing the need for further adaptation of working spaces and supply boxes.
On the other hand, a supply Busbar can provide the necessary power, allowing the connection of one or two supplies to the system in order to provide connectivity to other conduits. The DP 1N, for example, has the ability to provide 63A when included with one supply, whereas with two supplies it can provide 90A.
Zero rails, on the other hand, are used to provide a zeroing or grounding location in distribution boxes. These rails do not have insulation by themselves, however there are zero terminals which come with plastic, non-burning insulation which can be mounted anywhere in a distribution box.
The terminal blocks, particularly the TBH Types have the capacity from 3A to 20A and they come in a strip with 12 pieces which can be broken apart into two modules. When separated, one module can provide a connection to two faze, ground or zero conduits cables which will be secured to the TBH type terminal with galvanized bolts with a slotted head attachment.
They come in two varieties, one is white and the other one is semi transparent, providing visibility to the connection of the cables. The connection is made end to end and requires that at least 3-4 millimeters of the cable insulation to be removed and the copper wiring.
If the cabling being connected through the terminal is a multi-strand cable, it's required that the wiring be crimped or fixed into a single strand, usually done with a circular motion leaving a conical shape for the copper wiring.
It's also recommended that PVC insulation tape is used on the TBH type to secure the cabling and to avoid any electric power transference.