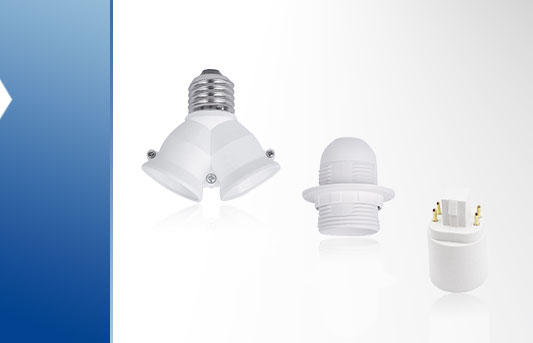 Тhe important accessories.
---
You could try our E-Business platform without registration where you have an access to the all products, their prices, stock availability, delivery time and technical information.
Description
The lamp base is used for holding a light bulb or lamp. Most of the light fittings or luminaires have a lamp holder, special made for their type of LED bulb. It is very important to find the right lamp holder compatible with the luminaires.
Browse all lamp holders that we offer in our catalogue here:
The lamp holders that we offer can be made from three types of materials:
Plastic;
Bakelite;
Ceramic (porcelain).
The main difference in these materials is their ability to withstand high temperatures. Plastic is great to work with, and there are grades of plastic which can withstand great amounts of heat – they are cheap to manufacture and are quite useful in households and industrial environments.
Lamp rings are with different in diameter and high and the most common used are plastic and ceramic E27 and E14 lamp holders. There are also different types of lamp holders available:
GU10;
G4;
GU5.3;
G53;
E40;
Twin lamp holders and adaptors.
The different standards allow for the adaptation of different LED light bulbs to regular fixtures, providing an easy transition from standard light bulbs, to a newer, more efficient generation.
Plastic Lamp Holder
Plastic lamp holders are one of the most common variations and this is due to how easy they are to manufacture and mass produce. Their excellent temperature resistance has made them quite common, which is why we are offering such a rich choice of plastic bulb holder variations.
The most notable choices are the white hanging lamp holders. They can be used for a pendant and even allow quite a large array of lamp shades to be screwed on it. Another great variation are the lamp bases which are made from plastic – we recommend you take a look at the oblique and straight variations as they have mounting ports for walls and ceilings.
Ceramic Lamp Holders
Ceramic is a widely acknowledged material as being highly resistant to heat, so much so that it's seeing use in the construction of space and atmosphere re-entry aircraft. These types of lamp holders are best utilized with high intensity lights and support a large range of lamps, like:
E27, E40, E27 with a supporting bracket, G24;
GU10, G4, G5.3, GY 6.35.
They have the variation in designs and are a great addition to any chandelier or luminary which would house a lot of LED light bulbs. While they are more efficient in turning electricity into light, they still produce quite a lot of heat, and it's a lot wiser to use ceramic lamp spares than any other variety.
Bakelite Lamp Holders
Bakelite is quite a well known material. It's a heat setting resin which was used mostly in the creation of radios and heat sensitive applications. In the case of our selection of lamp holders, the Bakelite variations perform quite well when dealing with heat from electrical charges and even provide a stylish view.
We suggest you take a look at the BAKELIT line. It has wide screw threads which can combine many different luminary covers. Due to the thread width, the BAKELIT line can fit several different standards.