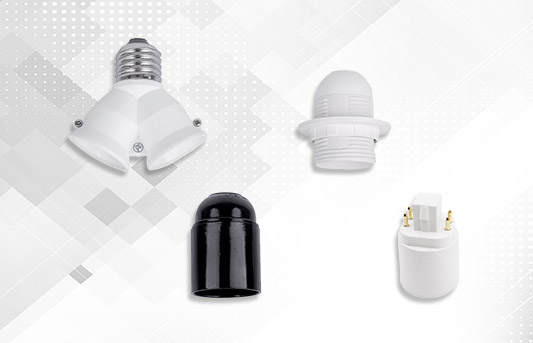 Тhe important accessories.
---
You could try our E-Business platform without registration where you have an access to the all products, their prices, stock availability, delivery time and technical information.
Description
The lamp base is used for holding a light bulb or lamp. Most of the light fittings or luminaires have a lamp holder, special made for their type of LED bulb.
It is very important to find the right lamp holder compatible with the luminaires.
The lamp holders that we offer can be made of three type of materials: plastic, bakelite and ceramic, also known as porcelain. The main difference in these materials is their ability to withstand high temperatures.
Lamp rings are with different in diameter and high and the most common used are plastic and ceramic E27 and E14 lamp holders. There are available also lampholders GU10, G4/G5.3/GY6.35, E40, twin lamp holders and adaptors.
Browse all lamp holders that we offer in our catalogue here: