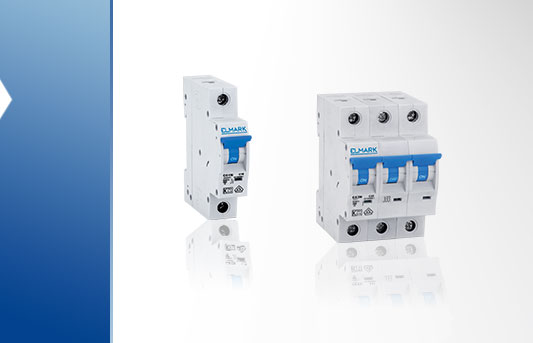 Reliable protection of the electrical circuits from overload.
---
You could try our E-Business platform without registration where you have an access to the all products, their prices, stock availability, delivery time and technical information.
Description
ELMARK offers circuit breakers designed for residential and industrial use, providing the necessary security for a small or large-scale electrical system. They are easy to connect, have a high voltage capacity, which is in accordance with all EU standards and has the capacity to protect machinery, appliances and entire electrical infrastructures.
Browse all Miniature Circuit Breakers and full technical information here:
What is a circuit breaker and when is it used
Miniature Circuit Breakers (MCB) are used to protect circuits from an excess of electrical current. They are an alternative to fuses, the miniature circuit breakers are automatic switches and they open when the current flowing through them exceeds the value which they've been designed to handle.
The devices can be used in combination with auxiliary devices to ensure remote control, commutation or indication of the circuit. They allow for manual and indirect control and monitoring of the system whether it would be one-phase or tree-phase electrical systems.
What types of MCB electrical circuit breakers are there
There two major MCB types – Digital and Analog
Digital MCB are types of circuit breakers which allow for no-contact circuit monitoring and manipulation. They can be operated remotely and allow for far greater control over a system, especially when high value machinery and circuits are involved.
These types of digital monitoring MCB's are most commonly used in manufacturing and industrial applications. They have a higher capacity for over and under-voltage and current protection and can withstand up to three-phase current.
The analogue MCBs provide the same level of protection, however, they are a reactive type which only triggers whenever there is a surcharge of electrical current or voltage. This makes them useful for smaller scale operations, however, they do not offer the same amount of monitoring which might be required in high voltage circuits.
A good example of a high capacity digital MCB is the ELMARK MN4 which is rated for up to 400V. It provides protection for industrial grade systems as it can take up to three-phase currents. It provides:
Under-voltage;
Over-voltage;
Over-current protection.
It provides a long distance monitoring capability and a circuit breaking function which can be triggered remotely.
The overall rate and voltage capacity of our selection ranges from a variety of spectrums, from MBC's rated for over-current protection, to under-voltage protection breakers.
Their rated voltage capacity is between 230/400V; 50/60HZ. Their breaking capacity is in accordance with EU standards 60 898-1:5400A. Miniature Circuit Breakers can be mounted vertical or DIN-rail.
In our portfolio in this category we included: miniature Circuit Breakers with 1, 2, 3, 4 poles and accessories such as monitoring voltage relays, switches, adapters.
Why choosing the right circuit breaker can save your system
Circuit breakers are important not only for households but also for industries since they can be the difference between being operational and not. They can save entire servers and their dedicated UPS systems, they can protect systems from degrading and burning down and can even provide the necessary feedback to notice abnormalities in currents.
In cases where storms or outside circuit abnormalities occur, circuit breakers are the front-line defense. Picking the right one will depend on the type of system you have, the amount of poles it requires and the connections and inputs which it will be receiving.