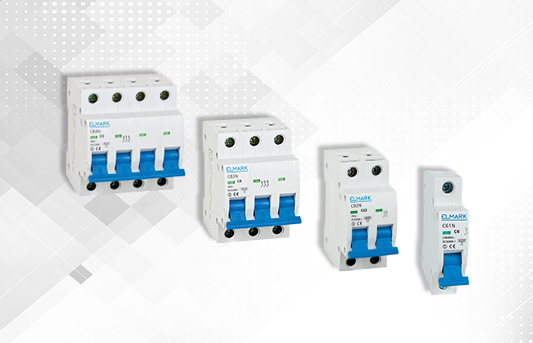 Reliable protection of the electrical circuits from overload.
---
You could try our E-Business platform without registration where you have an access to the all products, their prices, stock availability, delivery time and technical information.
Description
ELMARK offers circuit breakers designed for installation in residential and industrial environments.
Miniature Circuit Breakers are used to protect circuits from excess current. They are an alternative to fuses, the miniature circuit breakers are automatic switches and they open when the current flowing through them exceeds the value for which they have been set.
The devices can be used in combination with auxiliary devices to ensure remote control, commutation or indication of the circuit.
Their rated voltage is between 230/400V; 50/60HZ. Their breaking capacity is in accordance with EU standards 60 898-1:5400A. Miniature Circuit Breakers can be mounted vertical or DIN-rail.
In our portfolio in this category are included: miniature Circuit Breakers with 1, 2, 3, 4 poles and accessories such as monitoring voltage relays, switches, adapters.
Browse all Miniature Circuit Breakers and full technical information here: